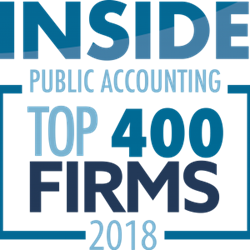 "We are excited to congratulate all of our firms who have been recognized," said Alan Deichler, president of CPAmerica. "The commitment that these firms have made to being great firms and to growth is very impressive."
GAINESVILLE, Fla. (PRWEB) October 10, 2018
Fifty-six of CPAmerica International member firms are being recognized for their accomplishments in INSIDE Public Accounting's (IPA) Survey and Analysis of Firms, among the longest-running, up-to-date ranking of the nation's largest accounting firms.
In October, IPA presented its inaugural IPA 400 – the first ever ranking of the nation's largest 400. For close to 30 years, IPA has sustained a tradition of groundbreaking excellence by compiling the annual IPA 100, IPA 200, IPA 300 and the IPA Best of the Best.
In this inaugural ranking, the IPA 400 will be included in the October issue of IPA. Firms named to this list have a minimum net revenue of $4.55 million.
"We are excited to congratulate all of our firms who have been recognized," said Alan Deichler, president of CPAmerica. "The commitment that these firms have made to being great firms and to growth is very impressive."
To view the full survey results, please visit http://insidepublicaccounting.com/newsletters/ipa-100-ipa-200-ipa-300/.
About CPAmerica International:
2018 marks the 40th anniversary of CPAmerica International, an accounting association made up of independent certified public accounting firms that is built on four key goals: to continuously improve; to make more money; to strengthen relationships among member firms; and to bring prestige to firms both domestically and internationally. As a member of the eighth largest global accounting network Crowe Global, CPAmerica expands to 216 independent accounting and advisory services firms in more than 130 countries, and has a combined firm revenue of $3.8 billion. Learn more about CPAmerica at http://www.cpamerica.org.