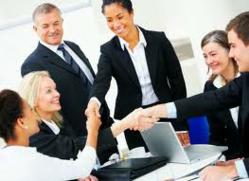 No company can thrive without a wonderfully diverse workforce. That is why we strive to protect it all costs.
Seattle, WA (PRWEB) February 06, 2013
Carlton's Training Solutions has recognized that the need for sexual harassment training in the corporate world isn't going away anytime soon. Staff in organizations around the globe has been training employees on this delicate subject more than any other for the last three years in a row. Carlton's Training Solutions has new programs coming out on sexual harassment training as well as general harassment issues.
Besides sexual harassment training, the closely related subjects of general harassment and diversity are also emotionally charged subjects that share something in common. All cost the company a great deal in legal costs and both cost the company in restaffing, as it is the number one reason for a failure in employee retention. "No company can thrive without a wonderfully diverse workforce. That is why we strive to protect it all costs," says Diane Weatherly of Allianz.
Everything about harassment training is difficult. The primary goal is to fight all those issues other than sexual harassment that can come in more forms than the simple unwanted overture or persistent verbal or physical advance. There are new laws spouting up every year to protect those in the workplace from overt pictures emailed to co-workers, jokes based on religious faith, gender, or simply from being new in the workplace.
Diversity plays a major role in the creative strategies of an organization. Diversity training helps individuals to respect the differences in their co-workers that can actually improve their job performance and hit long-term goals together as a team.
Carlton's Training Solutions handles other subjects in the workplace besides this specialized education in sexual harassment training. They manage substance abuse, trainer for trainers, workplace violence, time management, project management, telephone customer service training, conflict resolution, what is diversity, ethics and conduct, leadership training, what is employment law, how to open a meeting, motivational videos, icebreakers, safety training, sales training, team building, and customer service videos.
Carlton's Training Solutions assists in an organization's sexual harassment training because it enhances their ability to become more productive. They utilize the great business minds around the globe to help in their training videos such as Ben Zander, Tom Peters, Joel Barker, Ken Blanchard, Dewitt Jones, John Cleese, Catherine Crier, Bob Farrell, Lou Holtz, Morris Massey, and Stephen Covey. To see other subjects on corporate training videos or view more on Carlton's Training Solutions, click here at their site carltonstraining.com. Sexual harassment will continue to be a global initiative for companies and one spearheaded by Carlton's Training Solutions.
# # #