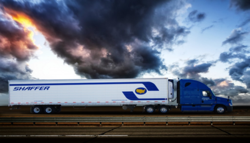 Lincoln, NE (PRWEB) March 15, 2013
According to the ATA's Chief Economist, Bob Costello, the industry is currently short between 20,000 and 5,000 drivers in the truckload sector, a figure that a healthier economy will only force to grow. "Once we see steadier, more robust economic growth, we could see an industry that is short by as many as 239,000 drivers by 2022," Costello said. Not only that, Costello also predicts that this year's driver turnover average of 98% is only expected to get worse as increased demand, an aging workforce and regulatory constraints combine to push the shortage higher.
But just as the trucking industry has remodeled itself to the many other benefits of advancing their business on-line, the stiff competition for quality drivers is also driving employers to evolve their mode of recruiting with the advantages Internet technology allows. Not only becoming aware of the need to establish their on-line image with an impressive company websites of their own, they also realize that appealing to today's drivers also requires taking it another step further and linking up to where today's job seekers often go – on-line job sites and ones specializing in trucking jobs such as TruckingUnlimited.com - even better. TruckingUnlimited.com has become a reputable and popular jobsite, offering job seekers the one stop on-line shop for the best trucking opportunities and offering trucking employers both worlds of the best exposure; a niche job board targeting a specific talent pool, with the unlimited outreach potential to candidates across every state.
With many immediate driving positions to fill in nearly every state, Shaffer Trucking has launched their on-line recruiting campaign with TruckingUnlimited.com. But they do not stop there. Long recognizing their drivers as the heart of their company's success, Schaffer Trucking has continuously gone the extra mile to retain them as well. In fact, they were awarded by the National Transportation Institute and publishers of the National Survey of Driver Wages' "Top Pay Carrier" designation. This elite award requires a carrier to qualify in three critical categories of top tier pay, benefits and carrier stability, that together make professional driving a rewarding and secure career choice. Shaffer Trucking ranked in the highest group for driver pay and benefits while its affiliate company, Crete Carrier Corporation ranked in the highest group for financial stability.
"Crete Carrier, Shaffer Trucking, and Hunt Transportation are committed to providing drivers with one of the top compensation packages in our industry," said Tonn Ostergard, Crete Carrier Corporation President and CEO. "We're honored to receive the Top Pay Carrier recognition. Retaining and attracting safe, experienced drivers ensures we're able to continue to deliver superior service to our customers on a daily basis."