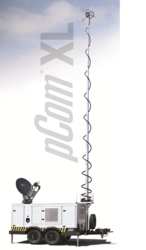 "Our ground and vehicle-based satellite systems provide crucial transitional technology when other transmission methods are not available" - Marc LeGare
Killeen, Texas (PRWEB) March 25, 2013
Killeen, Texas,– Proactive Communications, Inc. (PCI), a worldwide provider of secure end-to-end network management and SCADA solutions for the Energy sector, announced today its participation at Shalecomm 2013, April 2-3, 2013. More than 200 professionals in the shale drilling community – drillers, oil and gas companies, contractors, gas transmission companies, trade associations, telecom providers, and more attend ShaleComm to network, collaborate and discuss the communications challenges faced at different shale plays around the country.
PCI will showcase two of their industry-leading customized mobile response solutions: The PCI Satellite Platform and Remote Tactical Access Network (SPaRTAN) vehicle and the PCI Integrated pCom® XL trailer with PCI's unique turnkey communications package. PCI's indoor booth will also include a SCADA (supervisory control and data acquisition) display and SCADA experts to answer questions.
PCI's SCADA solutions integrate existing infrastructure with additional SCADA requirements and provide comprehensive support for a customer's SCADA system from the field to the front office. SCADA designs developed by PCI are comprehensive, including control and instrumentation devices, signal aggregation and communication, control system and software and back office applications. PCI designs, installs, manages and monitors SCADA systems using leading technology and security management tools.
PCI's SPaRTAN line of manned vehicles includes self-contained mobile satellite platforms providing internet access, VoIP telephones, VTC, and radio interoperability. SPaRTAN vehicles are available in a Suburban-style or larger travel coach versions.
The pCom XL, manufactured by Squire Tech Solutions, is an immediately deployable, self-contained trailer with power generator, lighting and PCI's customized communications infrastructure. The pCom XL is part of PCIs Emergency Response Command Center (ERC2) line of rapidly deployable trailers with full integrated communications packages.
About Proactive Communications, Inc
Founded in 2000, PCI has designed, deployed, and managed end-to-end communications solutions providing secure VoIP, video, and data in the harshest and most demanding situations, including natural disaster areas and hostile combat zones throughout the globe. "Our ground and vehicle-based satellite systems provide crucial transitional technology when other transmission methods are not available," said PCI's CEO, Marc LeGare. "Our technicians, engineers, and even our executives are also fully deployable worldwide, offering a level of service and expertise that few others are able to deliver." PCI invites conference attendees to stop by booth #101 and outdoor exhibit #OE10 to learn more about PCI's solutions for the Energy industry.
About Squire Tech Solutions, LLC
Founded in 2004, Squire Tech Solutions LLC (Squire Tech) is the leading satellite interoperability company specializing in integrated satellite packages for managed voice, video, Internet, and data. The company offers a wide range of equipment offerings including the pCom® tactical communications trailer system which is the first product of its kind in the industry. Squire Tech remains focused on customer experience, quality of performance and reliability while always ensuring the customer truly has 'Communications Where You Need It'.
pCom® is a registered trademark of Squire Tech Solutions, LLC
Proactive Communications, Inc. Contact:
Name of Media Contact – Linda Mills
Title of Media Contact – Vice President, Marketing and Communications
Company Name – Proactive Communications, Inc.
Contact Phone Number – 254.702.9850
Contact E-mail – linda.mills(at)proactivecommo(dot)com
Website URL – http://www.proactivecommo.com
Squire Tech Solutions, LLC Contact:
Name of Media Contact – Michael B. Zalle
Title of Media Contact – Vice President, Sales and Marketing
Company Name – Squire Tech Solutions, LLC
Contact Phone Number – 214.306.6704
Contact E-mail – MZalle(at)squiretech(dot)com
Website URL – http://www.SquireTech.com