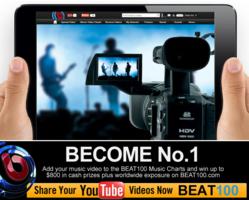 (PRWEB) March 28, 2013
BEAT100.com, is the new place to be for aspiring musicians, with thousands of new music videos being submitted daily. For many, uploading a video online can be a frustrating exercise at times, which is why the team at BEAT100 have made life just a little easier by giving their users the option to simply add a YouTube link on the share button of an existing video.
Not only does this make the process of joining the BEAT100 network completely headache free, but it will also add hits to the users YouTube channel. Many BEAT100 users have found this very useful as it means, no matter where you are, users can join up to BEAT100 and within minutes have their music video in the BEAT100 music charts. The upload takes seconds, making it ten times quicker to upload onto BEAT100 than any other video network.
No matter if users are signing up to BEAT100 for the first time, or are existing members of the network - adding videos is easy! Why have videos only on YouTube, when it's so simple to add the link to BEAT100 and showcase it to millions more people who, unlike YouTube users, are ALL specifically on BEAT100 to watch new music videos. It's a no brainer, especially as it's completely free of charge to use AND you could win up to $400 in prize money, plus free exposure!
So, why not get involved? Musicians need to get over to their YouTube channel to start copy and pasting those links to be seen, heard and rewarded at BEAT100.com!
Be Seen – Be Heard – Be Rewarded
By Alan Devon