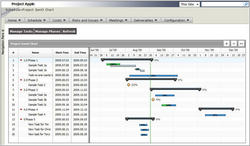 Many of our customers have been using our application development tools to build powerful project and portfolio management applications on SharePoint
Reston, VA (PRWEB) October 15, 2009
CorasWorks Corporation, a leading provider of software that makes it easier to develop applications on Microsoft SharePoint, today announced that it has released its Project Portfolio Management application for Microsoft SharePoint. The Project Portfolio Management application is a flexible, integrated application for project and portfolio management on SharePoint.
With the application, project managers and team members can manage, track and report on individual projects; manage multiple projects as portfolios; and gain visibility, insight and control of all project or portfolio-related activities across the organization through drilldown dashboards and reporting. Unlike most portfolio management products, the CorasWorks application makes it easy to set up any number of portfolios to gain visibility, track progress and manage investments an organization may be making in resources, products or technology.
With the CorasWorks Project Portfolio Management app, users benefit from the following features:

Individual sites for each project for managing KPIs, schedules, calendars, deliverables, risks/issues and cost
Ability to create multiple portfolio views for projects, programs or initiatives
Dashboards/reporting for visibility across the projects and portfolios, including KPIs, quality, health and status
Interactive Gantt charting
Rich reporting, with flash-based charts.
In addition to the core project/portfolio features, users of the application also benefit from those features specific to all CorasWorks applications:
Quick and easy to download, install and use
Easily customized through Point & Click Wizards to meet an organization's specific needs
One-touch management system that allows users to update and change the application as they learn and grow
Access to the CorasWorks App Store to download, install and use a wide variety of applications to either enhance the Project Portfolio Management application or add completely new solutions
CorasWorks' core application platform for extensibility and the ability to build custom apps, including read-write integration with external applications, data sources and services.
"Many of our customers have been using our application development tools to build powerful project and portfolio management applications on SharePoint," said Dan Naselius, Vice President of Services for CorasWorks. "It is a very popular application, and the feature set of CorasWorks is perfect for this type of app. Our application builds on the experiences of our customers to provide a deep Project Portfolio Management application on SharePoint that you can now buy off the shelf."
The CorasWorks Project Portfolio Management application is currently available for download through the CorasWorks App Store. The application is free to all CorasWorks customers on an active Premier Annual Support and Maintenance plan. Non-CorasWorks customers can purchase the app for $9,000.
Project Portfolio Management from CorasWorks runs on either Windows SharePoint Services v3 or Microsoft Office SharePoint Server 2007.
CorasWorks is best known for its Modular Application Development System, which allows users to design, build and manage applications on SharePoint without the cost and complexity of custom code development. CorasWorks recently announced its new AppEngine for SharePoint, plug-and-play apps for SharePoint and an online App Store. Project Portfolio Management is one of the many plug-and-play apps now available from CorasWorks in its online App Store.
For more information on the CorasWorks Project Portfolio Management application, visit the CorasWorks App Store at http://www.CWAppStore.com.
About CorasWorks
With more than 1,000 customers and more than 1 million users worldwide, CorasWorks is a leading provider of modular application development software for Microsoft SharePoint. Customers use CorasWorks products to build web-based solutions such as project- and process-oriented solutions and line of business applications. Its modular architecture makes it easy to design, build, and manage an integrated workplace of collaborative business applications, without the time and expense of custom development. For more information and online demos, please visit http://www.corasworks.net.
###