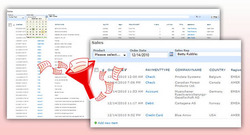 Any serious SharePoint user is going to get stuck in to filtering at some point
Cheltenham, England (PRWEB) February 3, 2011
SharePoint Specialists Pentalogic Technology are pleased to announce the release for sale of their new FilterPoint Web Part for SharePoint.
"Any serious SharePoint user is going to get stuck in to filtering at some point," explains Pentalogic CTO and founder Ryan Wheeler, "and we felt that there was room to improve on the filtering options currently available on the market."
"In Windows SharePoint Services and 2010 Foundation there are no filter Web Parts available with SharePoint out of the box," Wheeler points out, "users are basically stuck with static filtered views. These are fine if you have one set of data in a list that you want to look at repeatedly - like sales this month, for example. But what if you have a list where you want to look at lots of different data sets often? Like "sales to this client" for example. Setting up a filtered view for each of your many thousands of clients and navigating to it every time you want to check sales, is rapidly going to become very boring."
"With MOSS and 2010 Enterprise you do get more filter options. But there are still frustrating gaps in the functionality: like having to add a new filter Web Part to the page for each filter you want to apply, no easy way to clear filters and having restricted filter choices - like no radio buttons or drop down menus."
"We thought we could improve on that," says Wheeler, "we have built our business on products that improve on the basic building blocks of SharePoint functionality - the things that users rely on most. Our SharePoint Planner Web Part improves on SharePoint's calendar and Gantt chart functionality and our Reminder Web Part extends the functionality of SharePoint Alerts. So a tool that offered enhanced filtering options seemed to fit right in."
"But of course there are already 3rd party SharePoint Filter Web Parts on the market. In order to compete we had to ensure that FilterPoint also offered an improvement on these. When we looked at the products already available in the space we noticed that those that offered a useful level of functionality also seemed to be very complex to set up and configure. So we set ourselves the challenge of creating a Web Part with plenty of functionality, but a really simple user interface."
"We hope we have succeeded, and people can judge for themselves by taking a look at our Product Comparison chart - to see how FilterPoint's features match up to the competition, or having a look at our online demo, to see how easy to use FilterPoint is, or taking advantage of a 30 day free trial- to put FilterPoint through its paces themselves."
FilterPoint is on sale now and available to purchase from Pentalogic's website. Prices start at $199 for a 25 user Starter Pack license. This price includes standard telephone and email support and Pentalogic's no quibble Money Back Guarantee. Pentalogic also offer a free 30 trial of all software.
About Pentalogic Technology:
Pentalogic Technology design software for use with Microsoft SharePoint. Founded in 2005 Pentalogic are one of the longest established companies in their marketplace. Pentalogic's developers have worked with SharePoint since its very earliest days. Pentalogic's small range of products are each carefully designed and continually developed to address a specific need for SharePoint End Users. The aim is that each product should be "best in breed" in its particular niche.
###