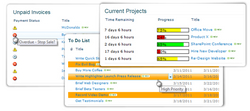 When we looked at what's on the market already
Cheltenham, England (PRWEB) March 23, 2011
SharePoint Specialists Pentalogic Technology have today announced the forthcoming release of SharePoint Highlighter, the latest in their range of tools for Microsoft SharePoint.
SharePoint Highlighter is a custom column which adds highlighting, color coding, icons, progress bars and countdowns to lists in SharePoint 2007 and 2010.
"Why did we feel the world needed SharePoint Highlighter?" asked Ryan Wheeler, Pentalogic founder and CTO. "Well, SharePoint lists can be a little dull on the visual side. As people get more into dashboarding, finding ways of picking out different bits of information easily becomes ever more important."
"When we looked at what's on the market already," says Wheeler "we realised that though there are quite a few products that offer one highlighting option - say progress bars, or KPI columns, or some kind of icon, there didn't seem to be anything out there that would give users flexibility and choice in how they mark up their lists. So this is the challenge we set ourselves in developing SharePoint Highlighter."
As the development process progressed the challenges associated with SharePoint Highlighter quickly started for fall into three main areas. Project Lead, Stuart Pegg explains:
"First there was the inevitable SharePoint issue. Everything looks simple on the surface. The examples given look straightforward, then you start digging into SharePoint's dark and dusty undocumented corners and everything suddenly becomes a lot less clear. Once you get into custom columns you are heavily into uncharted waters. Which basically means you don't know what you don't know - and neither does anyone else. There is very little reliable information around on this area."
"The second challenge was narrowing down our options. There were so many things we could have put into Highlighter - bells, whistles, flashing lights. The temptation to make it all singing, all dancing was almost overwhelming. But we had to resist. If we had put everything we wanted to in it a) it would have been totally unmanageable, and b) we wouldn't have released in until 2099. So we narrowed it down to the features that we thought would be most useful."
"Finally there was the user interface challenge. Though we have been quite strict with ourselves in terms of the number of features we have put in, Highlighter still does some pretty fancy stuff. So keeping the user interface simple and intuitive was always going to be interesting. What we wanted to avoid was presenting users with a daunting array options at the outset. What we have come up with is an interactive interface - almost a "wizard". We think it is pretty easy to use and we hope users will agree."
SharePoint Highlighter is now in the final stages of testing and will be available in public beta in the next few weeks.
"We believe Highlighter will prove attractive because it offers the kind of functionality that helps to make SharePoint more accessible and comprehensible to end users, thereby fostering user adoption and enhancing any deployments chances of success." Says Wheeler "We are inviting users to pre-register for the free trial now- which will mean they qualify for our product launch discounts."
About Pentalogic Technology
Pentalogic Technology is a privately owned and managed company based in Cheltenham England. Pentalogic build software for use with Microsoft SharePoint. Pentalogic's products are designed to enable SharePoint users to build rich applications in SharePoint, without the need for assistance from developers.
Founded in 2005 Pentalogic are one of the longest established companies in their marketplace. Pentalogic's developers have worked with SharePoint since its very earliest days.
Pentalogic's simple but powerful SharePoint tools are used by organizations around the world to enhance the functionality of SharePoint.
###