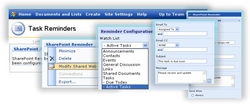 But it has very limited built-in alert abilities.
Cheltenham, England (PRWEB) March 12, 2010
Pentalogic Technology's market leading Reminder tool for Microsoft SharePoint has been selected by leading US attorneys Bowerman and Brooke for use in their Practice Support Directorate.
Bowerman and Brooke, LLP who are nationally renowned product liability attorneys, took the decision to create an in-house litigation support department in June 2009. Wade Peterson was appointed Director.
Wade understood the twin demands of litigation support work: tight deadlines and the need for absolute accuracy. He was determined to automate as much of the work of the department as possible in order to better meet these demands.
From previous experience Wade knew that SharePoint was going to be the right platform for handling document management, ensuring accuracy in everything the department does. But there was also the need to put in place systems to ensure deadlines were met.
"SharePoint is a great tool running information management and collaboration systems," says Peterson "But it has very limited built-in alert abilities."
They needed to automatically notify the staff of new projects, projects which had passed a promised date and feedback to project managers about jobs completed. As the staff grew in size and additional business came in the door, managing this information via e-mail or to-do lists was going to be impossible.
"We needed something similar to Microsoft's Outlook Reminders, but integrated into SharePoint," says Wade
So the hunt was on for a solution. After doing some research Wade found Pentalogic and their SharePoint Reminder web part, and the product seemed like a perfect fit.
"The flexibility is really remarkable. I've worked with a lot of third-party SharePoint Web parts and I have to say Pentalogic's Reminder is one of the best I've seen."
"We're managing hundreds of projects with the SharePoint site and because of Pentalogic's Reminder; we're able to keep the entire team informed of new changes and requirements. Staff are sent alerts on critical deadlines and follow-up on completed projects can easily be done. In fact, if we wanted to, we could even send a note back to the original requestor telling them when a project has been completed."
"The business is starting to grow," says Wade, "and knowing we have a tool to stay on top of our clients work is one less headache to worry about."
Pentalogic MD Ryan Wheeler said: "We are delighted that Reminder works so well for Wade and Bowerman and Brooke, and we're really pleased that they have decided to share their experiences with the product. Getting the "inside story" like this is not only interesting for us; it also gives us food for thought on how we can improve our products to make them even more effective for our customers."
You can read the full case study here.
Pentalogic Technology design software for use with Microsoft SharePoint. Founded in 2005 Pentalogic are one of the longest established companies in their marketplace. Pentalogic's developers have worked with SharePoint since its very earliest days.
Pentalogic's small range of products are each carefully designed and continually developed to address a specific need for SharePoint End Users. The aim is that each product should be "best in breed" in its particular niche.
###