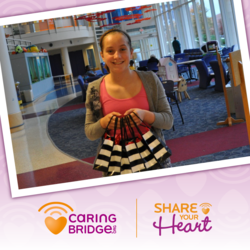 Eagan, MN (PRWEB) March 12, 2013
More than 300 CaringBridge supporters from across the United States opened their hearts and entered the CaringBridge "Share Your Heart" photo, video, and essay contest, inspiring millions by sharing their everyday acts of kindness.
With more than 7,300 votes casted, the heartfelt entry that captured the most love was from Ellen Joyce, a social worker for Duke HomeCare and Hospice in Durham N.C., who shared a touching story about her daughter's nonprofit working to improve the lives of hospitalized children. Following is her entry:
Positive Impact for Kids
My daughter's nonprofit improves the quality of life for children receiving medical treatment in hospitals. She raises money and then donates gift cards and iPads to let the children know others care. If she wins, she will donate one of the iPad Minis for hospitalized children to use.
Ellen's entry brought in a staggering total of 601 votes making her the winner and recipient of two iPad minis.
Ellen was inspired to enter the CaringBridge "Share Your Heart" contest by her 13-year-old daughter Leanne, who is the founder of the nonprofit Positive Impact for Kids. Leanne founded the organization after being diagnosed with a congenital heart problem. While in the hospital, a volunteer gave her a gift in the waiting room making her feel cared and supported.
"Her goal is to decrease pain, anxiety and stress for the children as well as improve their self-esteem," said her mother Ellen Joyce. "As the winner, she's donating an iPad mini to the hospitalized children to further her mission."
The Share Your Heart contest invited people to submit the fun, unique, and interesting ways they share their love and support with friends and family. Touching moments poured in during the three-week contest, including a daughter drawing a heart in the snow to welcome her mother home from the hospital and a family taking their grandmother, who is still grieving the loss of her beloved husband, to a three-day concert reminding her that life is still worth living.
Everyone who shared their heart during the contest was entered in a random drawing to win one of ten $20 gift certificates from Pear Tree Greetings, helping them stay connected and celebrate life's sharable moments. The Pear Tree Greetings winners are: Keri Estes-Cimorelli, Anna Will, Van Kirby, Gladys Bent, Jacque Pattisapu, Theresa Jenkins, Carol Stevenson, Carol Ducak, Carly Lanners, and Michelle West.
People share their heart every day on CaringBridge.org, the nonprofit caring social network that helps amplify love, hope and compassion by providing a private place to share health journeys and receive support from loved ones.
About CaringBridge
CaringBridge is a nonprofit offering many ways for people to care for each other during any type of health event. Its mission is to amplify the love, hope and compassion in the world, making each health journey easier. For more information, visit http://www.caringbridge.org/.