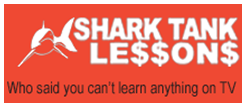 I see SharkTankLessons.com as a valuable resource to small businesses and startups that are looking to learn from others who have come before them
Austin, Texas (PRWEB) March 09, 2013
Sharktanklessons.com has released the latest recap of 'Shark Tank' episode 471 called' Don't Drop Your Phone at the Rodeo Disco'. To read the recap and find out more information about the products, please visit here.
Sharktanklessons.com is a new website that offers readers information about raising venture capital for startups and small businesses, as well as advice from the lessons learned from the hit television show Shark Tank. It also features results and updates of the companies that present their products and ideas on the show.
This episode covered the following:
> CellHelmet produces the only mobile accessories, cell phone cases and screen protectors, on earth to include accidental damage coverage. For more information, please visit here.
> CordaRoys- CordaRoy's sells original foam-filled beanbag chairs that convert to beds. Remove the cover, reveal a bed. It's that simple. For more information, please visit here.
> LOSE 12 inches has transformed over 10,000 clients lives by calculating their heart rate "Cowboy Fit Zone" and teaching them step-by-step to workout efficiently and maximize their results with ANY workout. I'm Ryan Cowboy Ehmann and it's my #1 secret to developing Rodeo Abs and branded me as the master fat loss trainer in Northern Colorado and across the Nation.
The website is designed to be a true resource for small businesses, startups, inventors and fans of Shark tank, offering critical insight into the do's and don'ts of business and presenting to potential investors.
"I've built several businesses, some successful and some not, and I know what a struggle it can be to learn all the different facets of a business," says site creator Nick Bridges. "I see SharkTankLessons.com as a valuable resource to small businesses and startups that are looking to learn from others who have come before them."
For more information about how entrepreneurs can learn from the lessons of Shark Tank, please visit http://SharkTankLessons.com.