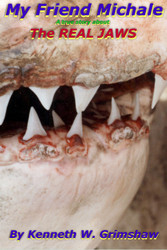 Read how Ward the Great White Shark turns " Desperation Into Determination."
Port Saint Lucie, FL (PRWEB) August 24, 2010
The recorded, Great White Shark event happened south of Montauk, L.I., N.Y. In the summer of 1978, one of these creatures was harpooned and towed a fishing boat backwards for hours. The press was fascinated and spent weeks using helicopters, planes and boats, trying to get a glimpse of this shark.
Kenneth W. Grimshaw, an East Hampton Bonacker, 15,000 hour airline transport rated pilot, participated in this historic event, filming it all from his Super Cub. Mr Grimshaw's photos of the Great White Shark, visible under water, made him famous. Mr. Grimshaw's photos were used by none other than Walter Cronkite on the CBS Evening News that night. He then received his "fifteen minutes of fame." He was interviewed on ABC's Good Morning America by Jane Pauley, and appeared on other morning talk shows. One of his Great White Shark photos was on the front page of the New York Daily News. Nick Karas, Newsday's chief sports writer interviewed, fished with and wrote about Mr. Grimshaw several times that summer.
The following summer he worked with Curt Gowdy, sports announcer for ABC, which led to a one hour ABC American Sportsman episode, and other appearances on this show. Peter Benchley, the author of "Jaws" fished with Mr. Grimshaw for over a week.
To view a summary and actual photos of Mr. Grimshaw's new a book; My Friend Michale, A True Story About The Real Jaws, click on this page on the website, http://www.KennethWGrimshaw.com. He tells the true story in the first person as Ward, a humongous, one of a kind, Great White Shark. He makes Ward's family come alive with tales of growing up, life's lessons learned, travel, and very sad misfortunes. Learn how Ward changes "Desperation into Determination."
Mr. Grimshaw's twenty five years experience spotting Great White Sharks from his Super Cub, and fishing for large game fish, give him the expertise and insight to tell this amazing story. For many years he believed that these intelligent creatures communicate with each other and are capable of solving even for humans, complex problems. You will share the utmost compassion for Ward and his family right up until the astonishing and unpredictable conclusion.
The book is available on Amazon.com and Kindle eBooks. Go to http://www.KennethWGrimshaw.com and click on the page for "My Friend Michale A True Story About The Real Jaws." Join Mr. Grimshaw at the East Hampton Library, 159 Main Street, East Hampton, New York, L.I. , on Saturday September 4th at 1:00 PM for a showing, with narration of his Great White Shark DVD, and an Author Talk about his new book, "My Friend Michale A True Story About The Real Jaws." For directions and more information; call The East Hampton Library at, 631-324-0222,Ext 4.
###