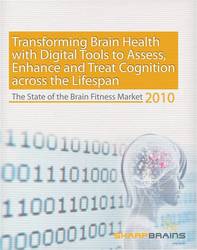 As the brain is thrust into the center of the healthcare ecosystem, innovative cognitive health and brain fitness applications will play an increasingly important role in defining neurocentric health
San Francisco, CA (PRWEB) June 28, 2010
In spite of the recent economic downturn, revenues for digital technologies to assess, enhance and treat cognition, or digital brain health and fitness tools, grew 35% in 2009. "The convergence of demographic and policy trends with cognitive neuroscience discoveries and technological innovation is giving birth to a nascent marketplace that can fundamentally transform what brain health is, how it is measured, and how it is done," says Alvaro Fernandez, member of the World Economic Forum's Council on the Aging Society and Editor-in-Chief of the report. "This groundbreaking report can help pioneers shape the emerging toolkit to benefit an aging society that increasingly seeks new ways to enhance cognitive functionality and mental wellness across the lifespan".
"As the brain is thrust into the center of the healthcare ecosystem, innovative cognitive health and brain fitness applications will play an increasingly important role in defining neurocentric health", adds Jake Dunagan, Research Director at the Institute For The Future.
A majority among the 1,900+ decision-makers and early-adopters surveyed said they trusted the effectiveness of non-invasive options above invasive options to enhance critical brain functionality. Professional and intellectual challenges were rated very effective by 61% of respondents, aerobic exercise and reading books by 42%, meditation by 38%, computerized brain training by 26%, taking prescription drugs by 13%, taking supplements by 12%, and self-medicating with drugs by 1%.
These are among the key findings of a 207-page market report released today by SharpBrains and prepared in collaboration with 24 leading scientists and 10 innovative organizations - the most comprehensive such research study done to analyze emerging research, technologies and marketplace.
"We must do for brain health in the 21st century what we largely accomplished in cardiovascular health in the past century. It's time to take scientific insights out of the lab and to identify practical applications, making the maintenance of good brain fitness a public health priority", indicates William Reichman, MD, President and CEO of Baycrest.
Other Report Highlights are:
Chapter 1. Market overview: The report estimates that the size of the worldwide digital brain health and fitness market in 2009 was $295M – 35% growth since 2008, representing an annualized growth rate of 31% since 2005. Healthy aging is the main value proposition today, but the report identifies lifelong drivers fueling a general desire to enhance mental wellness and performance: academic performance, sports performance, workplace productivity, driving safety, quality of life among older adults and clinical populations.
Chapter 2. Market survey of Priorities, Beliefs and Habits: 1,910 decision-makers and early-adopters rank the brain functions required to thrive personally and professionally in the XXI century and the options to maintain and enhance them, including levels of satisfaction with current popular products.
Chapter 3. Competitive Landscape: SharpBrains' proprietary Market and Research Momentum Matrix identifies seven companies, out of over a hundred, as Leaders: Brain Resource, CogniFit, Lumos Labs, Posit Science, Ultrasis, United BioSource, Scientific Learning. The report includes in-depth company profiles of 32 companies: Advanced Brain Technologies, Applied Cognitive Engineering, Arrowsmith School, Brain Center America, Brain Resource, CNS Vital Signs, Cogniciti, Cognitive Fitness and Innovative Therapies, Cogmed, CogniFit, Cogstate, Dakim, E-Hub, Houghton Mifflin, Learning Enhancement Corporation, LearningRx, Lexia Learning, Lumos Labs, Marbles: The Brain Store, MedInteract, Memory Training Centers of America, Mind360, MyBrainTrainer, NeoCorta, NeuroTrax, NovaVision, Posit Science, Scientific Brain Training, Scientific Learning, Ultrasis, United BioSource, Telos International, VibrantBrains, Vigorous Mind, Vivity Labs.
Chapter 4. Ten innovation case studies: The ten finalists in the 2010 Brain Fitness Innovation Awards share how they are applying innovative neuroplasticity-based tools to enhance brain performance in the real-world. The ten organizations are: USA Hockey, Allstate, Nationwide, Arrowsmith School, University Behavioral HealthCare, AAA Foundation for Traffic Safety, Saint Luke's Brain and Stroke Institute, Oakland Unified School District, Mental Health Association of Rockland County, and SCAN Health Plan.
Chapter 5. Research & Development: Twenty-four leading scientists examine recent evidence on the value and limitations of a wide variety of non-invasive brain health tools, and discuss the implications for measuring and enhancing brain fitness across the lifespan. Those scientists work at seventeen leading universities: Brown University, City University, Columbia University, Duke University, Einstein-Montefiore, Harvard Medical School, Karolinska Institute, Mind Research Network, Queen´s University Belfast, UAB, University Illinois at Urbana-Champaign, University Michigan/ Bern, University Notre Dame, University Rochester, USC Davis, University South Florida, University of Stirling.
Chapters 6-10. Market segments and 2015 Projections: The report includes a detailed trend analysis of four main market segments - Schools, Employers, Consumers, Providers -, and forecasts the worldwide market to grow to $2 - $8 billion USD by 2015 if important category bottlenecks are addressed.
Media Contact:
Rebecca Brink
760-716-1312
About the Report
The 207-page report, titled "Transforming Brain Health with Digital Tools to Assess, Enhance, and Treat Cognition Across the Lifespan," and subtitled "The State of the Brain Fitness Market 2010," is the most comprehensive and authoritative report to date analyzing the emerging marketplace for "Digital Brain Health and Fitness". More information available at http://www.sharpbrains.com/market-report/
About SharpBrains
SharpBrains is an independent market research firm covering the emerging digital brain health and fitness market. Its flagship annual industry report helps decision makers and innovators navigate the emerging brain fitness field based on evidence-based information and independent analysis. The organization also hosts the 3-day online, global SharpBrains Summit, a first of its kind conference, engaging professionals on the state of cognitive fitness research, technology and market trends.
###