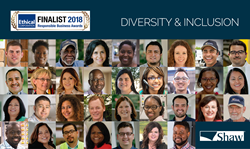 Shaw's initiatives to embrace diversity and cultivate an inclusive culture are part of our comprehensive approach to talent management and overall business strategy.
DALTON, Ga. (PRWEB) November 27, 2018
As a finalist, Shaw Industries Group, Inc. (Shaw) was recognized by Ethical Corporation at its ninth-annual Responsible Business Awards for promoting a corporate culture of diversity and inclusion.
The aim of the Responsible Business Awards is to showcase leading responsible business strategies from across the globe. Among the 400 entries, Shaw was recognized among the top three finalists in the Diversity and Inclusion category.
Mike Fromm, chief human resources officer at Shaw, noted, "Shaw recognizes our people are our competitive advantage. We're dedicated to fostering a culture that empowers our associates to bring their diverse, whole selves - with unique experiences and talents - to work. This enables us to attract and retain top talent who will drive business results and propel the company forward through innovation and thought leadership."
Lucia Cook, corporate diversity and inclusion leader at Shaw, stated, "Shaw's initiatives to embrace diversity and cultivate an inclusive culture are part of our comprehensive approach to talent management and overall business strategy."
Shaw perpetually incorporates inclusive practices in both talent acquisition and internal business functions. Shaw's commitment to fostering an inclusive and diverse corporate culture is supported by the development of associate resource groups (ARGs). These associate-led groups drive engagement within the company by connecting associates with both similar and different perspectives to ultimately spark growth through inclusive leadership.
Most recently, Shaw has:
connected more than 2,000 associates involved in its ARGs with networking and professional development opportunities shaped new talent acquisition and retention practices to reduce unconscious bias in the hiring and promotion processes educated its associate base on cultural competence
Liam Dowd, managing director at Ethical Corporation, indicated, "This year several judges remarked on how impressed they were with the standard of entries and the impacts that they're making. It's clear gains are being made across the globe and that's only going to increase in the coming years."
About Shaw Industries
Shaw Industries Group, Inc. is more than a flooring company – we are 22,000 people united in our vision of creating a better future for our customers, for our people, for our community and for our company. We provide carpet, resilient, hardwood, tile & stone, laminate, synthetic turf and other specialty items for residential and commercial markets worldwide. We meet diverse customer needs through an expansive portfolio of brands, including: Anderson Tuftex, COREtec, Patcraft, Philadelphia Commercial, Shaw Contract, Shaw Floors, Shaw Hospitality, Shaw Sports Turf, Southwest Greens, USFloors and more.
Headquartered in Dalton, Georgia, Shaw is a wholly owned subsidiary of Berkshire Hathaway with nearly $6 billion in annual revenue and representation throughout the U.S., as well as in Australia, Belgium, Brazil, Canada, Chile, China, France, India, Mexico, Singapore, United Arab Emirates, and the United Kingdom. For more information about our company brands, operations and community involvement, or to join our industry-leading team, visit http://www.shawinc.com.