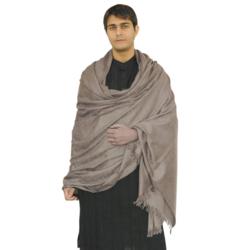 The shawls are made of pure soft wool and keeps one warm under mild winter conditions.
New Delhi, India (PRWEB) October 17, 2011
India online ShalinIndia has brought to international online market its unique large sized shawls especially for men. The shawls can be worn to Indian theme evening parties and celebrations. The shawls are made of pure soft wool and keeps one warm under mild winter conditions. They are also large enough 106 inches x 55 inches to wrap around a man's body.
"I am very happy to launch our large size men's shawl wraps in the international market. Most of the Indian festivals take place in the months of October and November and in February and March. It is the time of the year when Indians all over the world like to celebrate and throw parties. Our men's shawls are especially suitable to weather conditions in autumn and spring. These shawls make one feel warm, relaxed and comfortable", said Shalini Verma, founder of ShalinIndia.
"The shawls are made of high quality pure wool. They not only look like natural pashminas, they also have a similar soft touch feel. There is no itching feeling that is so commonly associated with woolen accessories. When wrapped around the body, it feels light weight and airy too. Indians living in the colder northern parts of the country like Himachal Pradesh and Kashmir wear these shawl wraps, sit around the fire place to enjoy with their friends and family, or to just enjoy reading a book" , added Shalini.
"These men's shawls have been very popular with the elite in at-least two cities of India, Lucknow and Kolkata. Bhadra Purush, or the civilized men as they are called in the city of Kolkata, can be often seen in the months of December and January, coming out of their homes, wrapped in a shawl, and enjoying a stroll . There is a kind of warmth and relaxed comfort associated with these shawls and we thought it appropriate to bring it to our international customers. The Holiday gift season is around the corner and these wrap shawls are ideal gifts for men", explained Shalini.
ShalinIndia is one of the premier online shopping stores of India. It specializes in selling cultural and traditional India gifts products to customers around the world. Through an arrangement with Amazon, ShalinIndia keeps its inventory in five countries US, UK, France, Germany, and France. This enables ShalinIndia to reduce not only delivery time but also shipping costs for its customers. ShalinIndia has maintained consistently high feedback ratings from its online customers.
###