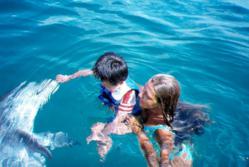 Panama City Beach, FL (PRWEB) March 10, 2013
Gulf Coast travel website TripShock.com is now offering great deals on tours to Shell Island this Spring Break. The travel website has announced savings up to 25% on different types of excursions. Shell Island is an uninhabited island that is full of marine wildlife. The island is a popular place for tourists to visit during their vacation. Here is a list of some of the offers available.
Visit TripShock.com Panama City Beach activity listings for more details on these offers.
1) Pontoon Boat Rentals - Save $20 on full or half day rentals for Shell Island pontoon boat rentals.
2) Waverunner Dolphin Tour - Save $25 per waverunner on dolphin tours to Shell Island.
3) Sea Screamer Dolphin Tour - Save $2 per ticket when you book online through TripShock.com.
4) Helicopter Tours - Take a Shell Island Helicopter Tour and use promo code HELI5 for 5% Off.
5) Dolphin Swim - Swim with dolphins at Shell Island and receive free snorkel rental.