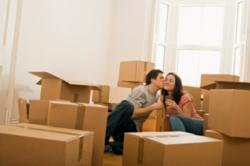 Red Blue Realty can assist you in making the right relocation choices.
Sherman Oaks, CA (PRWEB) September 11, 2012
It's done: Escrow is closed, all the paperwork is signed, and the keys have been handed over to the new owner. John and Mary have finally sold their Sherman Oaks real estate. But they forgot just one small, little detail -- the move!
Many people get so caught up in the process of buying or selling a home that they forget this necessary step. When planning out a move, one must consider many variables, such as whether or not to hire a moving company or to just do it themselves. Regardless of which route one goes, these 4 tips can make the moving process much easier.
(Please Note: Red Blue Realty is not a moving company and does not provide moving services, but they will coordinate and facilitate the move in accordance with the real estate transaction.)
1) Setting up Terms and Conditions
After settling on one of the many Sherman Oaks homes for sale, it's important to avoid what John and Mary did by setting up terms and contingences from the beginning. This process applies to both buyers and sellers.
A good real estate agent can help their client set up conditions such as "The home needs to be vacant by this date," "Give me an extra two weeks to move out," or "Pay for my hotel room until I move in". While the last request is likely to get crossed out, most buyers and sellers end up reaching a reasonable compromise when it comes to moving deadlines and expenses.
2) Organization
First and foremost, organization is the key for effectively moving into or out of Sherman Oaks real estate. There are many different ways to get organized. To begin, draw up some basic diagrams that lay out where the larger items, such as appliances and furniture, will go. These diagrams don't need to be anything fancy; some simple drawings will suffice.
It's important to have just a basic visualization of how the new home is going to be set up. Will it feel the same as before? Will it be completely new and different? Either way, plan it out.
3) The Move
The next step is to get a quote from 2 to 3 different moving companies, and then set up a move date. After making the commitment to purchase one of the Sherman Oaks homes for sale, this shouldn't be too difficult of a task in comparison.
At this point, one should have made the decision to either pack things up themselves or have the movers do it. If the movers are supposed to do it, make sure that they know ahead of time. For those who wish to pack up and move themselves, make sure to have all the necessarily supplies, boxes and tape. In particular, be sure to take a look at wardrobe boxes, which are very useful for moving clothing.
4) Consolidation
When packing, it really helps to consolidate everything into specific boxes and then label them -- kitchen, bathroom, master bedroom, etc. Color-coordinated labels are especially useful for this task, and it's fast and easy to place them on all six sides of a box for easy identification.
The best advice for an effective and successful Sherman Oaks real estate move is just to keep on task. It's inevitable that people will come across items that they haven't seen in a good while, perhaps a long lost teddy bear or an old photograph; but the move is not the time to reminisce! Put these items aside into a reminiscing box, and stay on the ball.
Moving is a frustrating process for many people, but it doesn't need to be. The move can be seen as a great opportunity for getting things in order and starting anew. It's all just a matter of good planning and organization.
While Red Blue Realty does not provide moving services, we can provide the perfect Sherman Oaks real estate agent who will coordinate and facilitate as well as ensure that escrow smoothly closes. For those who are interested in buying or selling real estate, contact Christopher Rosiak at Red Blue Realty today to learn more!
Website: RedBlueRealty.com
Email: Contact (at) redbluerealty (dot) com
Phone Number: 1 - (855) 66-RBREALTY or 1- (855) 667-2732
Get social with Red Blue Realty on Facebook and Twitter!