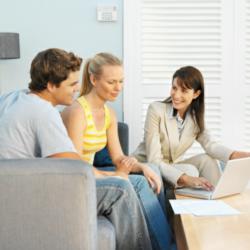 Sherman Oaks (PRWEB) March 05, 2013
Red Blue Realty offers some top tips to help home buyers qualify for the loans they need to purchase Sherman Oaks real estate. These tips are designed by a qualified Sherman Oaks real estate agent to make buyers appear more sound in the eyes of a lender. Note that most lenders look for a low debt to income ratio, low debt, a history of timely payments, and a reasonable rather than excessive amount of credit.
Tip One: Reserves
Often over looked, having a savings account with enough funds to cover monthly mortgage payments for a reasonable period of time if financial difficulties should occur is something that lenders covet. Borrowers with ample reserves will have an easier time qualifying than those who do not. If a borrower has no savings, this should be addressed before applying for a loan.
Tip Two: Credit History
Borrowers searching for Sherman Oaks homes for sale can greatly improve their ability to qualify for loans to make a purchase if their credit history is clean and they're prepared to prove it. Borrowers should gather necessary paperwork including bank statements and tax returns, W-2's, and pay stubs, and should be prepared to address any credit issues that could arise, such as late payments or a past bankruptcy on their record.
Borrowers should not only be prepared to address any blemishes on their credit record, but also to discuss options for clearing them with lenders. For example, high balances should be paid off on credit cards, other cards unused could be eliminated.
Tip Three: Ability and Willingness to Repay
Mortgage lenders examine two main elements when approving a loan: a borrower's ability to repay a loan, and his or her willingness to repay.
The ability to repay a loan is based on employment and income. Lenders prefer to see that the borrower has worked in the same job or has been self-employed in the same industry for at least the past two years.
A borrower's willingness to repay a loan is based upon the use of the property, and previous financial records - the credit report again.
Tip Four: Individual Evaluation
Every borrower is individually evaluated. While all of the above basics apply to each borrower, specific financial situations will be addressed by lenders one on one. Every situation is unique, and borrowers should carefully assess what they can do to improve their ability to qualify for a loan, from adding to their reserves to showing business growth if self-employed.
Tip Five: Appraisal
The appraisal of a home defines property worth in the property owner's neighborhood. Should an appraisal come in lower than expected, borrowers can always request a second appraisal at their own cost which could enhance property value and make the loan more viable in a lenders eyes.
Website: http://www.redbluerealty.com
Email: Contact(at)redbluerealty(dot)com
Phone Number: 1-(855) 66-RBREALTY or 1-(855) 667-2732