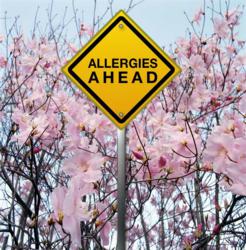 Even wind can cause eye damage.
Nashville, TN (PRWEB) March 29, 2013
Spring is the season for rejuvenation. However, for many it represents allergies, cleaning windows, landscaping, and more time outdoors performing other activities which can all potentially cause vision loss. Many people don't realize the serious hazards of using common household products for cleaning, spraying weeds or getting rid of insects. "Just reading the precautions and instructions on product labels and equipment could prevent common eye injuries", says Dr. Stewart Shofner of Shofner Vision Center in Nashville, TN.
Whether it is sweeping the garage, pruning trees, or cleaning windows, the warmer spring months generate activity. Some, especially young children, don't realize the dangerous ingredients found in common toilet bowl cleaner, oven cleaner, and pesticides. All these common household products can cause irreversible damage if they make eye contact. Dr. Shofner shares top 5 hazards and tips to prevent vision loss this season and throughout the year.
1) Allergy Season. According to recent stats, there are over 40 million allergy sufferers in the US and allergies are the 5th leading cause to chronic illness. Blooms in the spring are attractive, but the pollen distributed in the air, causing red itchy eyes isn't so appealing. Contact lenses become intolerable during allergy season, when pollen and other airborne irritants can stick to the lenses, which can lead to eye infections. Check the expiration date on eye drops before using, as expired drops can cause additional irritation and infection. Also, using the wrong type of eye drops for contact wearers can worsen the symptoms. Avoid rubbing eyes. Also, properly cleaning and storing contacts at night (take them out and give eyes a rest!) make it easier to wear contacts.
2) Outdoor Hazards. Removing those smelly wild onions or weeds using a mower or trimmer can be rewarding. Always wear proper safety glasses/goggles when moving, and even when filling up gas in mowers to avoid splatter/splashes into eyes. Pick up any loose objects in the yard to avoid flying debris from lawn equipment. Small children are especially vulnerable to flying objects from mowers and weed eaters. If matter makes eye contact, do not rub! If it is a piece of metal, glass or wood, or if the particle is actually embedded, contact a local medical facility. For any debris such as dirt or dust located on the surface or under the eyelid can be flushed out with eye wash or purified water.
3) Springtime Cleaning. Always use gloves and wear safety glasses/goggles when handling toxic chemicals to avoid eye contact. Working in a dusty environment can also cause eye injuries and especially present hazards to contact lens wearers. Avoid touching the eye area until hands have been properly cleaned, even if gloves were worn. Use organic cleaners or solutions to help prevent vision loss, although even these cleaners should be considered dangerous to the eyes. One of the worst offenders to permanently cause eye damage and blindness is sink clog remover. Avoid additional products included on the "Hall of Shame".
4) The Sun. Keep an eye on UV Safety. Just because it's not summer with higher temperatures, remember to wear sunglasses to prevent harmful UVA/UVB rays while outdoors. Wearing protective glasses can prevent eye damage caused by UV radiation.
5) Transportation. Spring also brings out the bikers. In addition to a safety helmet, Dr. Shofner advises to wear safety glasses while operating a bicycle, motorcycle, ATV or scooter to protect eyes against insects and flying debris. Strong winds can also damage the eyes. Even motorcycles that include a windshield, eye protection is recommended. Dr. Shofner also suggests that anyone driving with windows open and especially convertibles to wear safety glasses to protect against insects, debris and the wind.
Finally, Dr. Shofner recommends reading precautions. There is a reason many products and equipment are marked "CAUTION, WARNING, DANGER". Many include corrosive ingredients that are harmful to your skin, eyes, and cause respiratory damage if inhaled. In addition to reading the precautions on product labels be sure to read "What to do if product contaminates eye". The less time the product is in one's eye, the less chance of irreversible damage. Be sure to follow instructions on proper flushing procedures and contact an eye doctor immediately if burning, irritation, vision changes have occurred.
About Shofner Vision Center
Shofner Vision Center is staffed by caring, responsible professionals who pay close attention to details to ensure every patient is given the best experience. Anyone that experiences any eye related issue should schedule a comprehensive eye exam to determine if eye damage is present. Shofner Vision Center treats nearly every condition of the eye and also offers affordable LASIK and cataract surgery. Dr. Shofner has has performed over 10,000 cataract and ocular surgeries and over 30,000 LASIK surgeries on Middle Tennessee eyes. Shofner Vision Center offers the most affordable LASIK surgery prices in a "no pressure-no fear" environment, while offering Free Lasik evaluations during the week and on Saturdays.