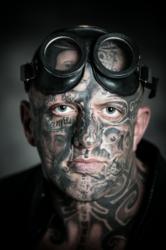 Beauty is skin deep, but a tattoo goes all the way to the bone
(PRWEB) January 09, 2013
The Winner of the December Shoot The Face Photography Award is Vince Hemingson from Vancouver, Canada.
There were some incredibly inspiring portraits submitted into the December contest, check out all of the finalists in the Shoot The Face Finalists Gallery.
Vince will have his work published in Blur Magazine amongst some of the most amazing and powerful photography that can be found on-line. Blur Magazine discovers and promotes creative photography worldwide. Blur Magazine can be downloaded here.
Vince Hemingson is a world traveller, screenwriter, best-selling author, film-maker and the creator of one of the internet's largest, most popular and critically acclaimed websites related to tattoos and body art - The Vanishing Tattoo. Hemingson is also a graduate of the highly regarded Langara Photography Certificate Program.
"In my writing and film-making, I have always thought that the purpose of training your pen or your camera on a subject was illumination. Literally to shine a light on something. In fifteen years of researching the history and social significance of tattooing - in dozens of different cultures around the world - I am always struck by the extraordinary power that tattoos can have to reveal a person's inner self. Rarely is the choice of a tattoo or a tattoo symbol an accident. People choose tattoos that resonate with their sense of perceived identity of a deep level. I was quoted in an interview nearly ten years ago, saying that, "Beauty is skin deep, but a tattoo goes all the way to the bone".
The January Shoot The Face contest is now open to all amateur and professional photographers around the globe. Anyone that thinks they have what it takes to be the next Shoot The Face Winner can submit their images here.
Shoot The Face is a monthly international portrait photography contest, designed to inspire, expose, and reward talented photographers around the globe.