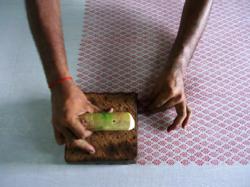 To me it seemed like a natural transition to go from sleeping under beautiful hand block printed textiles to sleeping and lounging in them.
Savannah, GA (PRWEB) July 24, 2012
Shopblithe is pleased to announce the launch of its first women's sleepwear line, featuring fabrics designed by company Founder and Designer, Liz Moore. The soft, colorful tunic nightgowns and pajama sets were designed by Moore to pay homage to the traditional and meticulous craft of Sanganeri hand block printing that she's admired throughout her design career.
She's not alone in her love of the ancient fabric process, as hand block printing has captivated the design world and seen a major resurgence by home textile designers in the form of colorful bedding, pillows and tabletop linens.
Moore explains, "Consumers fell in love with the soft voile cotton, the intricate details of the wooden block print and the tactile quality of the fabric. To me it seemed like a natural transition to go from sleeping under beautiful hand block printed textiles to sleeping and lounging in them."
True to Shopblithe standards, Moore worked to ensure that each garment is an individual piece of art. Beginning with a range of custom designed fabrics decorated by intricately hand carved blocks, to details like the embroidery around the neckline, the collection evokes both the history of the Indian handcraft and a feeling of breezy stylishness.
Coming soon is a resource room on shopblithe featuring videos, photos and detailed information about their artisans and the process used to create the fabrics. In the meantime, please visit http://www.rajasthantextiles.com/literature/block-printing.html#/page/3 to learn more about the craft of hand block printing.
About Shopblithe
Shopblithe was founded in 2010 by designer Liz Moore who graduated from the School of the Art Institute of Chicago where she studied painting and printmaking. Following art school Liz managed fully authorized publishing programs as well as brand management for some of the biggest names in sports and entertainment. Liz had the pleasure of working on programs for Michael Jordan, the NBA, Major League Baseball, Britney Spears, Justin Timberlake and Sonia Kashuk/Target Brands just to name a few. Eventually Liz's entrepreneurial spirit led her to founding Shopblithe with the desire of capturing the intoxicating colors and magic of India while offering products at an affordable price point, made from traditional materials and crafted by local artisans. Liz's small kid leather neem clutch became a great hit when they were featured in the March 2011 issue of Better Homes and Gardens as their "Fresh Find". Liz has since expanded Blithe's line to include beautiful hand block print pajamas and nightgowns for women and bright, fun leather accessories that are also available for wholesale.To learn more about Shopblithe please visit http://www.shopblithe.com.