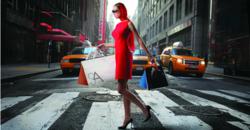 Loving ShopAddikt! They are helping me save time & keep my money in the bank! ~Susan, Portland, OR
Portland, OR (PRWEB) March 29, 2013
Search It. Stalk It. Steal It.™ That's the motto with Shop AddiKt.com. This hot new company isn't just another Guilt or HauteLook; Shop AddiKt allows a search for any fashion item that one desires to either Buy it Now or Stalk It until the price drops to where you want it. This is because they believe that everyone deserves to get into fashion at prices they desire.
It all started when the Founder, Bethany Londyn, was after a pair of $500 Frye Boots that she just had to have. Months and months of searching online for a special sale led her to wonder why there wasn't an online "wish list" to track specific items similar to the airline industry with airfare! After chatting with friends and tech industry contacts, she realized there was a need for this, thus… ShopAddikt.com was born.
ShopAddikt.com is still in Beta, yet it's fully functional and ready to start Stalking highly sought after fashion apparel, shoes, & accessories. They also just introduced Celebrity Style Expert, Kallah Maguire, of the EmeraldScarab.com, who is there to give tips on trends, and what's not to be missed! Be sure to create a profile so to not be left out of any more incredible sales.
Shop AddiKt Definition: One who is addiKted to style, fashion, & higher end pieces, yet refuses to pay full price. Just take control and Name the Price! Shop Addikt is a Portland, Oregon Fashion Tech startup aiming to make a name in the fashion e-commerce industry and bridge the gap between buyers and retailers.
For more information on Shop Addikt, visit ShopAddiKt.com or join them on Facebook, Twitter], & Pinterest.