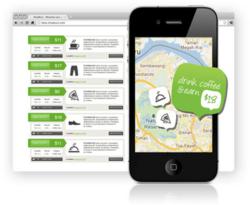 Measuring customer experience on a timely manner can be challenging. With Shopbust Mobile Mystery Shopping, our members can perform store audits & spot checks for your business on the go and report back to you instantly!
Singapore (PRWEB) March 18, 2013
Shopbust today has announced its launch of Mobile Mystery Shopping program with a brand new reporting module that allows businesses to target mobile workforce on the go to do quick mystery shops & spot checks and report back to the business via their mobile phones.
In the past, Shopbust focused on its robust web based platform that allowed businesses to collect real-time feedback on products and services from shoppers in a much greater detail. Addition of this mobile mystery shopping offering will definitely strengthen it's position in the market.

Over 12,000+ verified Mystery Shoppers joined Shopbust, covering multiple countries in Asia.
"Quality-through-quantity". Shopbust enables brands to measure service levels at their location more frequent without increasing costs.
Use of Mobile GPS & Social Media Profiling to target Mystery shoppers with the right demographics, interests and more.
Online Dashboard to access & analyze data in real-time.
"Good customer service & perfect brand implementation are two very important aspect of any consumer oriented business", said Saad Kamal, founder & chief technology officer, Shopbust.
"Traditionally Mystery shopping has been an effective tool for measuring Customer experience, however no real innovation has happened in the last decade to shorten the process of shopper profiling & recruitment, data gathering, analysis & reporting".
In today's world bad service is instantly shared on-line. Brands have to ensure that service quality is consistently good, every day. Traditionally service levels are checked only one to four times per year. Shopbust believes in "quality-through-quantity" and enables brands to measure service levels more frequently without increasing costs. As a brand you must know on a monthly, weekly or even daily basis how your frontline is performing and where corrective action is needed.
"As a brand owner you have created standards that will drive operational excellence. Shopbust provides the insights you need to make sure your business follow those standards. Shopbust evaluates your operational performance against your internally defined goals.", said Henk in 't Hof, chief executive officer, Shopbust.
For service oriented business, a typical mystery shop would cover areas such as:
Staff appearance, friendliness and engagement.
Wait and service time.
Cleanliness and general appearance of location.
Product recommendation & up-selling of additional products and services.
Overall on-site customer experience.
FMCG brands can use Shopbust to secure perfect implementation:
Check on-site branding and operational compliance.
Check implementation of POS materials, promotions, end caps etc.
Check pricing – for your products as well as competition.
Check current compliance with corporate branding & signage guidelines.
Verify product distribution.
Independently audit inventory levels and out-of-stock status.
Richard Canneman, Chief evangelist, Shopbust has over 7 years of experience in running Mystery Shopping firm in Japan. He said, "Traditional mystery shopping is dead. Businesses needs access to data immediately as it happens and not after weeks". "With latest Mobile & Social technology, Shopbust has created a very unique platform, that can allow any business to tap into it's massive Shopper database, set up a survey/scenario, upload it's locations & sit back, relax and start seeing data in a real-time dashboard."