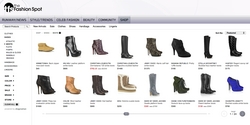 The partnership between theFashionSpot and ShopNation introduces a solution for monetizing site traffic that is both incremental and complementary to traditional advertising
Los Angeles, CA (PRWEB) November 8, 2010
theFashionSpot (http://www.thefashionspot.com), the largest fashion-focused community and fashion editorial site on the web, announced today its partnership with ShopNation (http://www.shopnation.com), a content-rich shopping engine for fashion and accessories. This alliance launches the new Storefront http://shop.thefashionspot.com shopping tool on theFashionSpot website.
Powered by ShopNation's proprietary technology, theFashionSpot's Storefront allows shoppers who love fashion to find exactly what they want and need – searchable by designer, size, color, brand, retailer, new arrivals, sales and more. ShopNation's powerful, fast, and smart technology constantly updates data, so shoppers are never disappointed, and advertisers and brands achieve maximum exposure.
"We wanted to offer our community not only full coverage of all things fashion, but also the ability to shop right at their finger tips," says Dana Glazer, Managing Director of theFashionSpot.com. "ShopNation's technology and expertise in the online retail space made them a clear choice for a partnership. To better align our content with the shopping habits of our audience – comprised mainly of designers, stylists, models and fashionistas – ShopNation's technology gives our readers a fast, easy-to-use interface, thereby creating a more engaging experience while on the site."
The Storefront has thousands of fashion items divided into seven main categories including New Arrivals, Sale, Clothing, Shoes, Handbags, Accessories, and Lingerie. With so many brands available, this shopping tool makes finding that perfect item easier than ever.
Travis Schneider, CEO of ShopNation, explains, "The partnership between theFashionSpot and ShopNation introduces a solution for monetizing site traffic that is both incremental and complementary to traditional advertising. It's a whole new way for readers to interact with editorial content – while giving publishers and advertisers new avenues to revenue. We couldn't be happier about partnering with theFashionSpot and look forward to launching many more new initiatives together."
Over the course of the next few months, theFashionSpot's Storefront will add interactive widgets, working in tandem with content posted on its editorial pages. Using ShopNation's distributed commerce technology, these showcased items will be available for immediate purchase. This new feature will further increase the potential for monetization and better align brands and advertisers with theFashionSpot's articles. To learn more about theFashionSpot's Storefront, please visit shop.thefashionspot.com.
About theFashionSpot
Originating in July 2001, theFashionSpot (theFashionSpot.com) made a name for itself as an invitation only community of designers, stylists and fashionistas that dissected designer collections, celebrating some and skewering others. Building the largest fashion-focused community on the web, theFashionSpot.com has grown into a well respected fashion editorial site with a strong and active community element. The site currently reaches almost 1.2 million unique visitors each month, with close to 70,000 registered members playing an active role in the site's forum. It is that in-market participation and authenticity that makes theFashionSpot.com the largest fashion community site and attracts other sites such as ShoeBlog, My'It'Things and FadedYouthBlog for cross-promotion, content syndication and ad sales. theFashionSpot is part of AtomicOnline (AtomicOnline.com), the publishing unit of Evolve Media (evolvemediacorp.com).
About ShopNation
ShopNation is a new, sleek, content-rich shopping engine for fashion and accessories. Aggregating data from thousands of retailers and brands ranging from Banana Republic to Balenciaga, ShopNation is the faster, smarter shopping experience. Style tastemakers enjoy fresh, constantly updated product details from categories such as clothing, shoes, handbags, and accessories. With ShopNation's proprietary technology, advertisers and publishers can "activate" their editorial – from shopping widgets to fully functioning shopping engines. Whatever you're searching for in fashion, you will find it with ShopNation. shopnation.com & twitter.com/ShopNation
Contact us now, to find out more! contact[at]shopnation[dot]com
For More Information about theFashionSpot:
Whitney Ashley
Public Relations Manager
(310) 449-1890 Ext. 250
Whitney.Ashley(at)evolvemediacorp(dot)com
Fazel Adabi
Public Relations Associate
(310) 449-1890 Ext. 255
Fazel.Adabi(at)evolvemediacorp(dot)com
For More Information about ShopNation:
Elizabeth Matthews
Public Relations Director
(310) 472-5308
ematthews(at)nmwest(dot)com
###