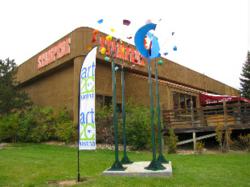 2013 should be our best year yet. It's time to start believing On Havana Street.
Aurora, CO (PRWEB) March 01, 2013
Shopping in Aurora, Colorado, has gravitated to Havana Street. Once in decline, the Aurora shopping area has attracted new businesses through redevelopment, special events and community engagement. Year over year sales tax revenues in the district rose over 200 percent in 2012, according to the Havana Business Improvement District (HBID), dba On Havana Street.
"We have an engaged community of merchants, employees, artists and civil servants coming together to improve the shopping experience for our part of Aurora," said HBID Executive Director Gayle Jetchick. "It's thrilling to see the revitalization of this area and it's gratifying to see it quantified."
The HBID, dba On Havana Street, runs 4.3 miles along Havana from 6th Avenue on the north to Dartmouth Avenue on the south. According to 2012 sales tax figures, the Havana Street shopping district generates about 10 percent of all sales tax revenue for the city of Aurora, Colorado. In 2012, total sales tax revenues for the district jumped to 14.3 percent—up from 4.5 percent in 2011.
In the district's five years of existence, major improvements have included:
Redevelopment of the declining Buckingham Square Mall into the Gardens On Havana – The open air shopping area is a focal point for Aurora business and community activities, including an annual Summer Rose Garden Concert Series. The 2013 series kicks off Tuesday evening, May 28, with Jazz ensemble Dotsero. On June 25, Radio Disney brings its Road Show to the Gardens with music, games, giveaways and a dance party.
Establishing a sense of community ownership – The Art 2C On Havana program beautifies the area with public art. Annual fundraising events for local charitable causes include Grocery Cart Races benefitting Comitis Crisis Center. The January, 2013, event raised over $11,000 in groceries for the center. A document shredding and electronics recycling event recurs each Earth Day in the Havana Exchange Shopping Center.
Bringing people together for fun and merriment – The annual Aurora St. Patrick's Day Party at Havana Street Station serves as the de facto "kick off" for the Aurora shopping season. Saturday, May 4, Gibby's Sports Saloon at Havana and Florida will host a "Business/Neighbor Come-Together" Cinco de Mayo party.
Creating the Annual Cruzin' Havana Car Show & Poker Run – The Havana Motor Mile™ is home to 25 car dealerships as well as auto parts stores and car washes. Each June, 20,000 car enthusiasts from seven states gather in Aurora to view 5,000 classic cars, play games and experience the festival.
In 2012, car sales on the Motor Mile rose 38 percent over 2011 and sales tax revenues from auto dealers and parts on Havana Street increased from 9.7 percent in 2011 to 30.9 percent in 2012. Food and Dining sales tax revenues also increased by five percent year over year.
In addition to maintaining and promoting its events calendar, the HBID is currently focused on the redevelopment of Fan Fair, a large, uniquely-architected building at Havana Street and 3rd Avenue built in 1961 that has stood vacant for about 30 years. The redevelopment of the former Aurora City Offices at Florida and South Havana Street into an apartment community for active seniors expects to be completed this summer.
"This is still just the beginning of what our community can achieve," said Jetchick. "2013 should be our best year yet. It's time to start believing On Havana Street."
About Havana Business Improvement District
The Havana Business Improvement District (BID) dba On Havana Street is a special district in Colorado created in 2007 by business and neighborhood leaders and Aurora city staff working together to build a stronger, better community. The District makes a difference by focusing on unique, culturally diverse events and fun new things to do and working to keep the area clean, safe and beautiful. For more information please contact Gayle Jetchick, Executive Director. Email: info (at) OnHavanaStreet (dot) com, (303) 360-7505.