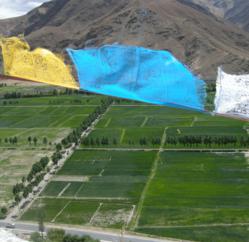 Important Tibet Shopping tips during Tibet travel!
(PRWEB) March 08, 2013
Tibet Ctrip Travel Service, (TCTS) has released newly updated guidelines for shopping while on tour in Tibet! When visiting a new country, it can be difficult to know where to get authentic souvenirs at good prices. TCTS aims to help travelers have an unforgettable time in Tibet, a part of that is helping them find great deals on authentic souvenirs! To ensure quality and reasonable prices, it is recommended that travelers buy souvenirs, such as art and crafts, from Tibetan souvenir shops. TCTS provides a few pointers to keep in mind while shopping in Tibet.
Where to buy: While there are places to buy souvenirs almost everywhere in Tibet, the top must see shopping attraction is Barkhor Bazaar. Nearly all Tibet travel tours will include time here. This isn't just a place for souvenirs; there are many shops for locals, giving travelers a window into every day Tibetan life. There is also a Tibetan market in Shigatse, while the selection of vendors may be smaller, tourists may find lower prices on items like prayer flags, opera masks, and prayer wheels.
What to buy: Tibet is a paradise for buying cultural items! While on a tour of Tibet it would be easy to fill up several suitcases! Travelers can purchase prayer flags, all kinds of hand made jewelry, jade, beads, beautifully carved opera masks, the list goes on and on. There is literally something for everyone. Tourists can even buy art and Tibetan rugs! Travelers who have something specific in mind can ask their native Tibetan guide where they might find the best deal for the best quality.
How to bargain: Bargaining is a normal part of shopping in Tibet. Many times, items in shops or at souvenir stalls are not marked with prices. Travelers will need to ask for the price of an item. To help circumvent language barriers, the shopkeeper will type the price into a calculator. It is common for travelers to be offered very high prices at first; it is best to respond with an offer well below and negotiate from there. Don't be afraid to walk away if they are unwilling to budge. However, be respectful and don't push too hard for a lower price; a few RMB means a lot more to a shopkeeper than it does to most travelers.
Shopping in Tibet is a thrilling experience and no Tibet tour is complete without at least one (if not more) shopping trip! There are all kinds of Tibetan arts and crafts that can be purchased in Lhasa alone; travel groups can always ask their native Tibetan guides questions about souvenirs and tips for bargaining. Don't forget to shop responsibly by shopping at Tibetan owned stores, not only do they provide better prices for better quality but it keeps money in the local Tibetan community. There is something to fit every taste and budget, so when traveling in Tibet, be sure to pick up some souvenirs!