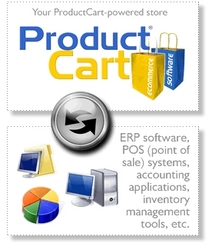 We are particularly excited about introducing the ProductCart XML Tools
Mission Viejo, CA (PRWEB) December 20, 2007
Early Impact, an e-commerce software development company, recently released a number of updates to its ProductCart line of shopping cart software. Among the many new features and improvements for Internet stores powered by ProductCart:
ProductCart XML Tools: a complete suite of XML tools that will make it much easier for a developer to integrate a ProductCart-powered store with a third-party system. It's a complete XML API, with lots of support documentation.
Google Checkout UK certification: UK merchants can now use Google Checkout on their ProductCart-powered storefronts
PayPal Web Site Payments Pro UK and Express Checkout UK: support for PayPal's new payment systems has been extended to the UK
Control Panel User Logging: now store managers will know exactly who logged into the store's administration area, when, and what they did (which pages they accessed), including the IP addresses of unsuccessful login attempts.
Category Import Wizard: easily import product categories and all of their settings into your database. Especially useful when importing an existing product catalog into your new, ProductCart-powered storefront.
Recently Viewed Products: ProductCart users can now add a simple "snippet" to their store design that will list the last few products visited by a customer. The customer can also instantly clear the list, if they wish to do so.
Shipping labels printing for users of the United States Postal Service
Pick List. A handy tool for warehouse staff that can quickly print a product "pick-list" to use when shipping orders
Enhanced support for the Value Added Tax, with the ability to handle different VAT rates for different products
Support for new payment gateways: BeanStream, ChronoPay, Ogone, Payment Express (PX Pay), SkipJack, Virtual Merchant (Nova).
"We are particularly excited about introducing the ProductCart XML Tools," said Massimo Arrigoni, CEO of Early Impact. "Integrating an online store with the rest of a company's operations is definitely a priority for our customers. They have made it very clear to us. It will be great to see how developers will put the XML Tools to work to answer this need."
For more information about the ProductCart XML Tools, please visit: http://www.earlyimpact.com/productcart/xml/
For a more in-depth discussion of features recently added to ProductCart, please visit: http://www.earlyimpact.com/productcart/new31.asp
ProductCart v3 is available starting at $695 per storefront. For more information and fully-functional demos, please visit the Early Impact Web site at http://www.earlyimpact.com
Since 2001, Early Impact has been developing e-commerce software for small businesses. Its ProductCart line of shopping cart software is now used by thousands of Internet stores around the world. A few hundreds of these stores can be found at Great Online Stores .com. Over 150 Web design and development companies have chosen ProductCart as their e-commerce system of choice for building online storefronts for their customers. Early Impact is privately owned and headquartered in Mission Viejo, CA.
SOURCE: Early Impact, LLC
Contact: Massimo Arrigoni, marketing at earlyimpact.com
# # #