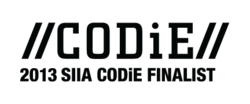 New York, NY (PRWEB) March 27, 2013
Today, eCommerce solution provider, Shopping Cart Elite, was named a finalist for the 2013 SIIA Software CODiE Awards for Best SEO Solutions. The SIIA CODiE Awards are the premier award for the software and information industries and have been recognizing product excellence for 27 years. The awards have over 75 categories and are organized by industry focus of Content, Education and Software.
This year there were 27 software categories, including twelve new and updated categories that reflect the continued growth and evolution of cloud computing, mobile, big data, and video. Winners will be announced during a special Awards luncheon on May 9 in San Francisco during the industry's most comprehensive ISV conference, All About the Cloud.
Shopping Cart Elite SEO Features is a sophisticated SEO solution dedicated to, eCommerce stores. The package includes a wide range of tools and learning materials to help businesses succeed online. What makes Shopping Cart Elite unique, according to users, is the fact that it consists of custom plugins, whereas other solutions integrate third party apps. Furthermore, the Threat and Engagement analytics developed by Shopping Cart Elite also helps users evaluate the quality of traffic from paid and free sources. This allows them to scale their ROI more efficiently.
"We are honored to be nominated for this prestigious category," comments CEO of Shopping Cart Elite, Igor Soshkin. "Our SEO features were developed to cater to the demands of our clients, and our solution has been very effective. This nomination is a testimony of the hard work and innovation that went into the making of Shopping Cart Elite, and I would like to congratulate my entire team on this remarkable achievement."
"The CODiE Awards competition was extremely competitive this year, and all of the finalists should be commended for their innovative products and services," said Rhianna Collier, VP for the Software Division at SIIA. "We look forward to honoring the winners at our awards program in May at All About the Cloud."
Details about each finalist are listed at http://siia.net/codies/2013/finalists.asp
About SIIA
SIIA is the leading association representing the software and digital content industries. SIIA represents approximately 700 member companies worldwide that develop software and digital information content. Information technology (IT) and software security are critical issues to SIIA's members, many of whom strive to develop safe, secure and state-of the-art products that effectively serve their commercial and government customers alike while protecting their intellectual property.
The SIIA Software Division provides a forum for companies developing the applications, services, infrastructure and tools that are driving the software and services industry forward. For further information, visit http://www.siia.net/software.
About Shopping Cart Elite:
Shopping Cart Elite is for online retailers and wholesalers who are dissatisfied with the limitation of their shopping carts. Shopping Cart Elite is an enterprise ecommerce solution at a small business price that will completely automate your online business. Unlike the majority of shopping carts in the market, we have created a system that does not require you to pay thousands of dollars each month to App partners to have automation, marketing and SEO tools for your business. More Info - http://www.shoppingcartelite.com/pitchdeck
Are you concerned about low quality website traffic? And you need a traffic quality management solution? Unlike, Google Analytics, Clicktale, and Clickly, we've developed a tool we call threat and engagement analytics. Threat and Engagement analytics will provide a threat score for all your website visitors, measure engagement score for only real visitors, identify invalid advertising clicks along with low quality traffic, and finally, increase your return on advertising spend.