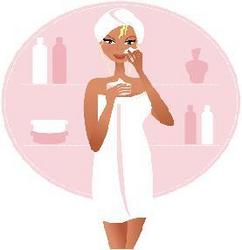 Norwalk, Conn. (PRWEB) June 23, 2008
Each season, cosmetic lines tell consumers a different "color story," which basically is the group of colors that go together with the fashion trends for the same season. Summer 2008 is all about clothing with bright, bold colors, and the make-up has to match accordingly. When it's time to refresh the make-up bag to bring in the bright and golden shades for the summer, wise shoppers use the savings they get from savings programs like Shopping Essentials (SM), a leading discount membership program offered by Adaptive Marketing LLC.
From bright red lips and accentuated eyebrows to the neo-bohemian dark eyes and girly, electric-blue eye shadow, women can play with it all this summer. One thing all women should remember, notes Shopping Essentials, is that no color will look good on a damaged skin, so before any make-up is applied, moisturizing (with an SPF factor of at least 30) and foundation are key. Apply the first one, and wait 20 minutes or so before applying a light, preferably liquid foundation.
Once the canvas is ready, it's time to apply make-up. Here are the main trends for the summer of 2008, colors and application tips offered by AP9 ShoppingEssentials:
-- The eyeliner is back. The '80s are long gone, but some of their boldness has been brought back, minus the excess. Try electric and turquoise blues, bold purples, lilacs, and fresh baby blues too. Use the color to border the eyelid in a smudgy streak. Use liquid eyeliner if the goal is to create a more dramatic cat-eye pattern for an evening affair.
-- The '60s look. Once again, the wild Sixties inspire fashion and make-up trends. In this case, the eyes are the focus, with women wearing two-tone eye shadows patterns and flirty eyelashes. The idea is to create a light smoky eye with combinations of blues, corals and greens. This look is great for daytime and parties, but not for women in conservative work environments.
-- Golden eye. Metallic shades are everywhere, and make-up is no exception. Once again, the eyes are the right place to play with colors, and in this case any hue is valid. Try gilding the eyelids with iridescent eye shadow in light colors for the morning and in darker shades for the evening.
-- Red lips. They're back, stronger and bolder. Red lipstick should be worn carefully, paired with sleek hair, well-groomed eyebrows and a lick of black eyeliner. Some women opt for berry-stained lip color or a vibrant pink shade, to make a softer statement and still look totally stylish.
-- Pink cheeks. Soft pastel pink cheeks make a comeback this season. This hue gives a girly, innocent air to those who wear it, especially when worn with minimal make-up. Make the eyes look a bit daring with brown or black-brown mascara and darker shades of pink on the lips.
Experiment with all these trends, but remember to go for the ones that complement your style, skin color and age. And for savings on all the essentials in make-up, fashion and other needs, summer is also a good time to log on to Shopping Essentials.
About Shopping Essentials
AP9 ShoppingEssentials is a leading membership discount program offered by Adaptive Marketing LLC. Headquartered in Norwalk, Conn., Adaptive Marketing is a category leader in membership programs, bringing value direct to consumers through an array of benefits in healthcare, discounts, security, personal property and personals. Members may access their benefits at Shopping-Essentials.com. With broad online and offline distribution capabilities, Adaptive Marketing offers its corporate client partners effective tools to enhance market presence, strengthen customer affinity and generate additional value through programs such as Shopping Essentials.
###