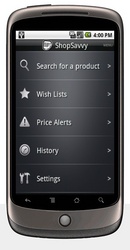 Dallas, TX (Vocus) January 27, 2010
Big in Japan, a Dallas-based idea factory for mobile applications, has announced a video contest to encourage ShopSavvy users to tell the world how they saved money with the groundbreaking barcode-scanning app. The company will award a Google Nexus One phone to the ShopSavvy user who submits the best video testimonial.
"ShopSavvy has received an avalanche of media coverage and has won several prestigious international awards -- and we have been humbled by this recognition," said Alexander Muse, co-founder of Big in Japan. "Ultimately, however, this app was created for its millions of users, and we are excited to give them a forum to share their money-saving stories directly."
To enter the contest, ShopSavvy users should:

record a short video (two minutes or less) describing how they used ShopSavvy to save money while shopping;
provide details such as store name, location, product name, and amount saved;
star in the video themselves (no actors);
be sure to show their phone running ShopSavvy;
include their name, address and shirt size in the e-mail accompanying their video;
e-mail their entry to sales(at)biggu(dot)com.
The Google Nexus One winner will be selected from the first 100 entries received, so interested users are encouraged to submit their videos promptly. Only one entry per user will be accepted. All of those who enter a video in the contest will receive a ShopSavvy T-shirt and other gifts, while supplies last.
ShopSavvy enables mobile users to comparison shop on the go for more than 20 million products at more than 20,000 retailers worldwide, simply by scanning the product's barcode using their phone's built-in camera. Using the barcode information, ShopSavvy searches the Web for the best prices on the product, displaying the lowest prices online as well as at nearby brick-and-mortar retailers. ShopSavvy looks up product reviews to further assist with purchase decisions.
More than 1 million ShopSavvy users scanned more than 18 million products on Black Friday weekend alone (Nov. 27-29).
Mobile users may download ShopSavvy at one of the following links:
ShopSavvy for iPhone: http://bit.ly/shopsavvyiphone
ShopSavvy for Android: http://bit.ly/shopsavvyandroid
About Big in Japan
Big in Japan Inc. is a Dallas-based idea factory for mobile applications , building software for Google's Android, Apple's iPhone, Windows Mobile and other platforms and devices. Big in Japan's ShopSavvy application — a personal shopping assistant — is one of the most popular applications on Android-powered mobile phones. Big in Japan was one of the original winners of the Google Android Challenge in September 2008 for its development of ShopSavvy. The application won a 2009 Netexplorateur of the Year award at the French Senate in Paris and was named Under the Radar's Best App of 2009. Big in Japan was a finalist for the international MobileMonday Mobile Peer Awards as well as the 2008 Crunchies. For more information, visit http://www.biggu.com.
Contact:
Cathy Baradell
(972) 235-3439
# # #