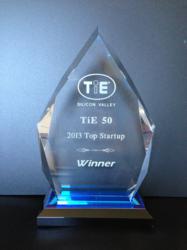 It is a true honor to be recognized as the top startup at the world's largest conference for entrepreneurs
- Jai Rawat, CEO
Mountain View, CA (PRWEB) May 31, 2013
ShopSocially, the leading social commerce platform for online retailers, today announced that it has been named Winner of 2013 TiE50 "Top Startup" Award. ShopSocially was honored at the world's largest conference for entrepreneurs, TiEcon 2013, on May 18 at the Santa Clara Convention Center.
"We are truly honored to win the TiE50 award from a pool of over 1,100 companies. This award recognizes the leadership and technology innovation ShopSocially has brought to demonstrate the true power of social commerce for online retailers," said Jai Rawat, CEO of ShopSocially. "ShopSocially is generating millions of dollars in incremental revenue, increasing engagement and conversion rate and converting customers into brand ambassadors. This award validates ShopSocially's approach to social commerce."
Speaking to a global audience at the awards ceremony during TiEcon 2013, the conference Chairman and President of TiE Silicon Valley, Mr. Venkatesh Shukla said that "the TiE50 program screened 1142 companies from 24 countries and 50 best-of-breed companies were announced winners."
"Over the past four years, the TiE50 program has gained global acclaim attracting startups from all over the world. TiE50 as a brand has gained much recognition amongst the VC and Angel communities – particularly in the Silicon Valley. About 110 finalists and winners from previous years have already had successful exits," said Program Chair Ram K. Reddy.
About TiE50
TiE50 is TiE Silicon Valley's premier annual awards program keenly contested by thousands of technology startups worldwide. Awards are announced at TiEcon, the world's largest conference for entrepreneurs. TiE is a global, not-for-profit network of entrepreneurs and professionals dedicated to the advancement of entrepreneurship. TiE provides a platform for mentoring, networking and education for technology entrepreneurs worldwide. TiE has a global network of 54 chapters located in most major North American, Asian and European countries and cities with more than 14,000 members across 13 countries.
About TiEcon
TiEcon is the world's largest conference for entrepreneurs and intrapreneurs with loyal participation from top technology companies, leading venture capital firms, and global service providers. TiEcon 2013 attracted 3,700+ attendees from across the world -- including CEOs of established companies to first-time entrepreneurs creating new companies, to leading investment professionals and corporate executives. TiEcon was listed by Worth Magazine in their September 2011 issue to be among the 10 Best Conferences for Ideas and Entrepreneurship along with TED and the World Economic Forum. For more information on TiEcon, visit http://www.tiecon.org/ .
About ShopSocially
ShopSocially is a SaaS social commerce platform driving word-of-mouth branding and millions of dollars in incremental revenue for 100s of top brands.
ShopSocially platform enables a suite of onsite social apps for eCommerce sites. Examples of these apps include Ask-a-Friend, purchase sharing, fan acquisition, shopping community, social reviews and more.
ShopSocially has won several awards and has also been featured by Facebook in a Social Commerce case study. Launched in Oct 2010, ShopSocially is a privately held company in Mountain View, CA. For contact information, please visit http://shopsocially.com/contact.html