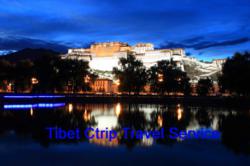 what to see for two days' tour in and around Lhasa?
(PRWEB) March 07, 2013
Travelers who are short on time need not count themselves out of a Tibet tour. Tibet Ctrip Travel Service-TCTS (http://www.tibetctrip.com) has recently announced new two-day tours that include Lhasa's most famous cultural and historical sites. Whether coming to Tibet via Nepal or Mainland China travelers can fly into Lhasa, spend the evening acclimatizing to the altitude, and then enjoy two days packed full of sightseeing! To accommodate a wide variety of traveler interests and preferences TCTS offers several itinerary options:
1.Travelers will begin their tour with a walk around Barkhor Bazaar; this hustling and bustling area gives travelers a window into every day Tibetan life. After touring Barkhor Bazaar, travelers will learn about Tibetan culture as their native Tibetan guide accompanies them to Jokhang Temple. In the afternoon travelers will pay a visit to Sera Monastery. On second day of the tour, travelers visit the Potala Palace and have a choice between visiting Norbulingka or Drepung Monastery.
2.Alternatively, travelers can choose to visit Jokhang Temple and Potala Palace on the first day, and visit Norbulinka, Sera Monastery, and Pabongka Monastery on the second day.
3.For those who are interested in seeing some of Tibet's natural scenery, a trip to Lake Yamdrok can be arranged. Since the altitude here is higher than in Lhasa, Tibet travel groups will explore Barkhor Bazaar, Jokhang Temple, and Potala Palace on the first day.
4.Another option for exploring the countryside surrounding Lhasa is a visit to Drigung Monastery and making a stop at Tidrum Hot Spring. Travelers will be able to learn about Tibetan culture when they pay visit to Drigungtil Nunnery, relax at the hot spring, and see plenty of mountain scenery in between. For acclimatization on the first day, travelers can visit cultural sites in Lhasa of their choosing.
Even those making a quick stop in Tibet still have an opportunity to see its stunning natural scenery and learn about its unique culture. These aren't the only options for a two-day tour, TCTS is happy to accommodate travelers who have a specific itinerary in mind. Daily flights from several major Chinese cities serve Lhasa and there are usually 3 flights to Kathmandu weekly, TCTS will provide the most up to date details at the time of booking. A two-day tour of Tibet, focused on Lhasa, can be arranged throughout the year, the best time to visit is late spring or early autumn. With the best travel season right around the corner, don't let a tight schedule get in the way of an unforgettable Tibet travel experience!