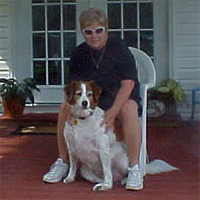 As each occurrence wears down the narrator's initial skepticism, we are invited to make the same leap of faith that love can outlast death.
Northampton, MA (PRWEB) September 15, 2011
Tom Howard Books is pleased to announce the results from its 19th annual Tom Howard/John H. Reid Short Story Contest. Judith Koenig of Harlem, GA won first prize and $3,000 for her story "Bailey Is in Heaven". Over 1,000 entries were received from around the world.
Folksy and heartwarming, Koenig's tale begins with a friendship between two women: the narrator, and an elderly newcomer to her small Georgia town, whose bond with her dog Bailey results in a series of possibly paranormal events. As each occurrence wears down the narrator's initial skepticism, we are invited to make the same leap of faith that love can outlast death.
Second prize of $1,000 was awarded to Robert B. Robeson of Lincoln, NE for his essay "Remembering August 20, 1969 on Memorial Day". The author was a US Army captain and medevac pilot in Vietnam. In a remarkable coincidence, while browsing an anthology of other veterans' stories, Robeson discovers the fate of the man he saved during a nightmarish firefight three decades earlier.
Lucille Bellucci of Oakland, CA won third prize and $400 for "Cicadas". Set in 1937 in Shanghai, when the besieged and starving city is about to fall to the Japanese, this tensely atmospheric story follows a family of upper-class British expatriates whose insular, proud worldview has blinded them to the dangers outside their door. As suffering beggars encroach on her turf, the lady of the house feels uncomfortable pricks of guilt, calling her whole value system into question—but it may be too little, too late.
Ina L. Jones of Port St. Lucie, FL won fourth prize and $250 for "One Man's Legacy". As the patriarch of a working-class Irish family lies dying, his oldest child remembers struggling to live up to his high standards. Will he give a sign of his love before he passes? The answer comes in a form that is unexpected yet perfectly right.
Most Highly Commended awards of $150 each were given to William (Bing) Bingham, Mark Carlson, Liz Davies, Cyndee Hollamon-Cook, Judy Willman, and Carla M. Zwahlen. Their winning stories are published online at WinningWriters.com.
About Tom Howard Books and John H. Reid
The Tom Howard/John H. Reid Short Story Contest accepts short stories, essays, and other short works of prose. All styles and themes are welcome. Both published and unpublished work are accepted. The 20th contest is open now and has a postmark deadline of March 31, 2012. Entries are accepted online and by mail. For guidelines, please visit WinningWriters.com.
Contest sponsor and final judge John Howard Reid has himself won first prizes and other awards in prestigious literary events. A former journalist and magazine editor, he has published several historical novels, a collection of poetry, a guide to winning literary contests, and over fifty books of film criticism and movie history. He lives in Wyong, Australia. Mr. Reid is assisted in the judging by Dee C. Konrad. A leading educator and published author, Mrs. Konrad was Associate Professor in the English faculty of Barat College of DePaul University, and served as Dean of Liberal Arts and Sciences for the year 2000-2001.
About Winning Writers, Inc.
Winning Writers assists with entry handling and publicity for the Tom Howard/John H. Reid Short Story Contest as well as two annual poetry competitions sponsored by Tom Howard Books. Winning Writers is today's leading source for literary contest information. We are proud to have been selected as one of the "101 Best Websites for Writers" by Writer's Digest for seven years running (2005-2011). Our online database, Poetry Contest Insider, ranks and profiles over 1,250 poetry and prose contests. Our free email newsletter offers news about free poetry contests and quality literary resources. Winning Writers was founded in 2001 by Jendi Reiter and Adam R. Cohen. Learn more at WinningWriters.com.
###