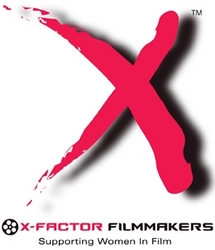 "We are inviting both men and women filmmakers to enter and that is revolutionary for a company whose purpose is to support women film directors."
Los Angeles, CA (PRWEB) March 31, 2010
X-Factor Filmmakers, an organization that supports women filmmakers has launched an online film contest on Vimeo for both men and women http://vimeo.com/groups/xfactorfilmcontest. With a great short film of 5 minutes or less an up and coming filmmaker will win the Grand Prize of $1,000 and Avid Media Composer editing software worth $2,500. In addition, The Garage, a site that showcases great short film work, will choose five films from all the entries that they feel will elevate the level of talent in their collection. The entry fee is just $20 and the net proceeds go into the X-Factor Film Fund for female filmmakers. The winner of the Grand Prize will be decided by the filmmaker's peers on Vimeo.com - a place where young filmmakers already gather. This voting system allows the work to be judged by those who understand the blood, sweat and tears that go into making a film.
X-Factor Filmmakers raises awareness and money for female filmmakers but know they need to appeal to both sexes. "We cannot wait to launch this online contest for a very unique reason," says Lauren Tracy, X-Factor Filmmakers co-founder and film director. "We are inviting both men and women filmmakers to enter and that is revolutionary for a company whose purpose is to support women film directors. We don't aim to alienate one sex or another. Instead we create a community around our philosophy that both sexes create great films but are just not represented equally at the movies in America and around the world."
The Garage http://www.theauteurs.com/garage/films jumped on board when they found Lauren's film work online and invited her to join The Garage. Luis Alguera, co-producer of The Garage explains, "We are excited to curate the five films that will be added to our site. We're looking for the ones with clear voices, with original visions and dreams that extend beyond the ordinary. X-Factor Filmmakers understands this and we are more than happy to be a part of the contest".
X-Factor Filmmakers hopes to find success with this contest and be able to hold multiple contests a year where the financial awards will grow with each event. The net proceeds from the contest will go into the X-Factor Film Fund, which awards financial funds to deserving females at film festivals, film schools and organizations across the country.
For the inspiring commercial and details regarding the contest go to
http://www.xfactorfilm.com.
About X-Factor Filmmakers
X-Factor Filmmakers is a fundraising organization and gathering place for female filmmakers nationwide. Co-founded by Lauren Tracy, a young filmmaker, the organization's goal is to partner with non-profits to provide financial support for women to enter the world of film. The sale of X-Factor Filmmakers branded merchandise and now short film contests raise funds at xfactorfilm.com.
Find X-Factor Filmmakers on Twitter http://twitter.com/xfactorfilm
Facebook http://www.facebook.com/pages/X-Factor-Filmmakers/239737551899?ref=ts
For further information or interviews contact:
Lauren Tracy
X-Factor Filmmakers
978-590-2402
laurentracy(at)xfactorfilm(dot)com
###