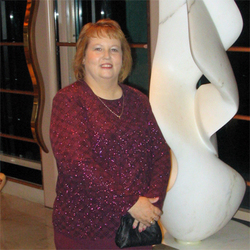 Northampton, MA (PRWEB) September 15, 2008 -
Tom Howard Books is pleased to announce the results from its 16th annual Tom Howard/John H. Reid Short Story Contest. Victoria Gouldthorp of Sun Prairie, Wisconsin won first prize and $2,000 for her story "All Things Considered". Over 1,800 entries were received from around the world.
Gouldthorp's poignant first-person narrative of a young woman coping with recent widowhood is leavened with moments of humor. Forced to be polite to clueless well-wishers, the narrator inwardly expresses her anger and bewilderment at the assumption that life should go on as usual. Here is an excerpt from the story:
"They brought food. Casseroles, breads, salads. They brought soup. So much soup. Don't they know that soup is for sick people. You bring soup for a cold. This is not a cold. They brought cookies, and bars and cakes. My friend Debbie brought peanut butter cookies. Do they think I am hungry. I am not hungry. Oh. The food is not for me. Ahhhh. The food is for them. It will fill my fridge and my counters and cupboards. It will not get eaten. I couldn't eat this much food in a month. Even if he were still here, we couldn't eat that much food. I guess that's the point. They wouldn't have brought it if he was still here. It will grow mold . I will say 'what is that rancid smell in my fridge?' I will realize that it is the stench of the bribes that my family and friends used to get in. They knock on my door. They say, 'I have brought you something.' They come in. The food is their ticket in. They gather in the living room and the kitchen. They spill out onto the porch and into the garden. The garden that he wanted, and I didn't--but grew to love. They ask me, 'Is there anything I can do?' I smile, shake my head, and say no, but thank you. The voice in my head screams, 'Yes, here's what you can do. Take your damn cookies and leave! I NEVER, EVER liked peanut butter cookies. He did. They were his favorite NOT MINE! He is not here you idiot.' But that is only the voice in my head."
Of the winning entry, the judges said, "Victoria Gouldthorp has thrown a critical eye over an everyday event (the aftermath of a funeral) and reworked this potentially rather hackneyed theme with insight, understanding, credibility, and even humor... The plot is a simple one, yet it grabs the reader's attention because the narrator remains not only so thoroughly believable, but is frank and honest enough to admit to anti-social feelings that readers themselves have often entertained. Most of us have experienced similar pangs of guilt, and we have tried to suppress them; whereas the narrator's response provides a perspective not only strikingly different, perhaps even commendable."
Second prize and $1,000 was awarded to Arthur Powers of Raleigh, North Carolina for "The Bridge", a vivid account of a priest struggling to keep his emotional balance while ministering to a poor village in Brazil. Paul Garrety won third prize and $500 for "Romanos", a romantic ghost story about a young girl and her violin instructor. Maggie O'Toole won fourth prize and $250 for "The Promised Land", a tale of brotherhood and redemption along the Mexican border, where immigrants cross a harsh desert in search of a better life.
Most Highly Commended awards of $200 each were given to Karima Alavi, Russell Cera, Thomas Lee, Desmond Meiring and Judy Willman. Highly Commended awards of $100 each went to Betty Jo Goddard, Dixon Hearne, Katie Kimbro, Connie Lounsbury, Paul Ponsiglione and Angela Posey-Arnold. Their winning stories are published online at WinningWriters.com.
About Tom Howard Books and John H. Reid
The Tom Howard/John H. Reid Short Story Contest accepts short stories, essays and other short works of prose. All styles and themes are welcome. Both published and unpublished work are accepted. The 17th contest is open now and has a postmark deadline of March 31, 2009. Entries are accepted online and by mail. For guidelines, please see WinningWriters.com.
Contest sponsor and final judge John H. Reid is a former journalist and magazine editor who has published several novels, a collection of poetry, a guide to winning literary contests and fifteen books of film criticism and movie history. He lives in Wyong, Australia. Mr. Reid is assisted in the judging by Dee C. Konrad. A leading educator and published author, Ms. Konrad was Associate Professor in the English faculty of Barat College of DePaul University, and served as Dean of Liberal Arts and Sciences for the year 2000-2001.
About Winning Writers, Inc.
Winning Writers assists with entry handling and publicity for the Tom Howard/John H. Reid Short Story Contest and other literary contests sponsored by Tom Howard Books. Winning Writers is today's leading source for poetry contest information. We have been selected as one of the "101 Best Websites for Writers" by Writer's Digest for four years running (2005-08). Our online database, Poetry Contest Insider, ranks and profiles over 750 literary contests. Our free email newsletter offers news about free poetry and prose contests and quality literary resources.
Winning Writers was founded in 2001 by Jendi Reiter and Adam R. Cohen. Learn more at WinningWriters.com.
###