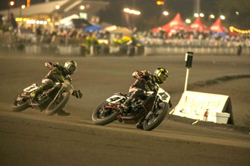 "the speedway is excited to bring this thrilling event, the first of its kind in New England, to this year's Laconia Motorcycle Week." David McGrath, General Manager of New Hampshire Motor Speedway
LACONIA, N.H. (PRWEB) May 23, 2019
For the first time in its 96 year history, Laconia Motorcycle Week will feature American Flat Track racing at New Hampshire Motor Speedway. Long the venue for races, entertainment and demo rides during Motorcycle Week, the speedway has just completed construction of a 0.25-mile dirt track named The Flat Track to add an electrifying new chapter to this historic event. The inaugural event, put on by American Flat Track and called Laconia Short Track Presented by Russ Brown Motorcycle Attorneys, will take place on Saturday, June 15th and will feature pro riders in AFT Twins and AFT Singles classes.
The event kicks off at 4:30pm (subject to change) with a full race program, including heat races, semis and a main event. General Admission tickets for open lawn seating are $35 for adults, $20 for military/first responders, and no charge for kids 12 & under. Spectators are encouraged to bring blankets and chairs and to arrive early for best viewing. VIP tickets are available for $140 for adults, $50 for kids and include access to a private, premium viewing area located directly on the racetrack as well as complimentary food & beverage, a commemorative race program and exclusive souvenir.
Says David McGrath, General Manager of New Hampshire Motor Speedway, "the speedway is excited to bring this thrilling event, the first of its kind in New England, to this year's Laconia Motorcycle Week. Expect exciting, bar to bar, tire rubbing action on our brand new 1/4 mile dirt track. Get your tickets early because we think it's going to be a pretty spectacular day."
For more information visit: Short Track @ NH Motor Speedway
Laconia Motorcycle Week® gives great appreciation to all of our sponsors, especially our Presenting Sponsors: Progressive, AMSOIL, and American Iron Outfitters as well as the State of New Hampshire for their large financial support of our rally each year.
Ride Safe and Keep Away from the Centerline!