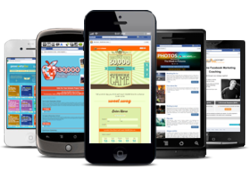 Reno, NV (PRWEB) March 14, 2013
ShortStack, a self-service app creation platform, makes it easy for businesses to create contests, coupons, promotions and apps that are fully functional on desktop and mobile devices. With each app ShortStack provides a "Smart URL" feature which means that page administrators don't need to build two versions of their apps to reach their mobile market.
Currently, Facebook does not display Facebook Page Apps on mobile browsers. Mobile users who attempt to access Facebook apps -- including contests, promotions, newsletter sign-ups, fan-gating, and landing pages -- from a Facebook URL are redirected to the Page's Timeline. ShortStack allows app-builders to create apps that are available from multiple devices but share one URL. The single URL makes it easy to promote apps throughout a business's marketing efforts including e-mail marketing, social networks, websites and blogs.
ShortStack offers more than 50 mobile friendly templates, allowing users to design and launch mobile apps for Facebook's 680 million monthly mobile users. ShortStack's Smart URL detects whether a visitor is accessing the app from a desktop or from a mobile device and automatically adjusts the way the app looks and performs.
ShortStack is the platform of choice for some of the biggest brands and celebrities on Facebook, including NBC News, ZipCar, Newegg.com, Black and Decker, Pitbull, Falken Tire, Ford Racing and Lynda.com.
The platform is designed to help small business owners and big name agencies create custom apps that harness the power of social media. ShortStack delivers these services through a do-it-yourself platform that consists of more than 40 tools, 70+ templates and an extensive library of support documents, videos, references, and an email support system.
ShortStack offers monthly pricing plans starting at $30; the apps help businesses take their engagement and marketing efforts to new levels on Facebook, websites and mobile devices.
About ShortStack
ShortStack is a self-service custom app design tool with features that include contests and sweepstakes, newsletter signup forms and integrations with YouTube, Twitter, RSS and more. ShortStack apps can be installed wherever – to Facebook, websites and blogs, and they're even viewable on mobile devices. To learn more about ShortStack, visit http://www.shortstack.com.