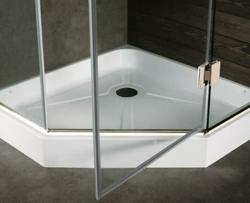 For a huge, whole-scale custom shower, many people choose to do custom tiling head to toe, including the shower floor, but often premade acrylic or fiberglass shower floors can be a much less expensive alternative.
(PRWEB) September 14, 2012
HomeThangs.com – the Home Improvement Super Store has made their goal to deliver the right product to the consumer, with that in mind, shopping and home design tips, as well as special product selections are being introduced.
When planning a major bathroom remodel, there are a lot of things to think about, and a lot of decisions to make, some of them fun, and some of them practical. Without any personal experience on the subject, some of the practical decisions can be harder to make.
One might think that shower floors are waterproofed either by the tile and grout or the solid construction of pre-made shower floors, but a lot of construction goes into building a long-lasting, leak-proof shower, including not only a graded concrete or mortar slab, but also a thick, durable, waterproof lining underneath it. That layer guides any water that might leak through cracks in a shower directly to the drain, preventing the kind of catastrophic damage that can occur when even a little bit of water is leaking over a long period of time unnoticed.
Once the shower foundation has been installed, one still has to decide between a few different types of shower floors. For a huge, whole-scale custom shower, many people choose to do custom tiling head to toe, including the shower floor, but often premade acrylic or fiberglass shower floors like ones by Vigo Industries for example, can be a much less expensive alternative.
HomeThangs.com introduced a shower floor tip sheet, to help the consumers understand what to expect and pick the right option when remodeling or building a shower.
1. Price: Tile shower floors can be a little expensive, primarily because it is not just the tile that is being paid for, but also installation and any underlying construction to be done.
Pre-made shower floors, like the Kathryn Shower Base by Kohler for example, on the other hand, tend to be less expensive to buy. Very well installed tile can last longer, but a good tiling job isn't cheap by any means, and it's easier to replace standard-sized pre made shower floors than it is to try to accommodate a new floor to a custom shape.
2. Appearance: The biggest advantage of tiled shower floors is that one can create a pristine, seamless tiled look throughout your bathroom. Whether that means continuing the tiles from the wall all the way onto the floor, extending the floor tiles into the shower, or simply having a coordinated over-all tiled look, tiled shower floors have a much more finished look. If it's a matter of a limited budget, a low-sitting pre-made shower floor, like Groove from Kohler for example, will still allow having fully tiled walls while saving on the expense of doing the floors. If it's a matter of convenience, one can find pre-made shower floors that are "tile ready" or that can be tiled over, but they tend to be a little more expensive than conventional models.
3. Maintenance: On the other hand, pre made shower floors definitely win in terms of easy maintenance, not only because they don't have any grout to scrub, but also because many of them are made of easy to clean, mold and stain resistant materials. Overall, premade shower floors, like Archer Shower Base by Kohler for example, present a rather easy-to-clean surface. Tile shower floors not only have to be routinely scrubbed, but also periodically re-sealed to keep the grout from leaking or cracking.
4. User Experience: Depending on the type of tile used and the pre-made shower floor material, the experience of standing on the shower floor can be quite different – warm to the touch or cold, slippery or rough or slip-proof, or otherwise. But pre made shower floors can offer a little more functionality than the standard tile floor. Some even have a built in seat that requires no extra installation, and provides a smooth, comfortable surface to sit on without any awkwardly angled tiling.
5. Scope of the Project: This is partially related to price, but not completely. If going to install a brand new custom tiled shower, depending on the size of the shower and who is hires to do the tiling, it could take a while to complete, and is definitely going to bump into the category of big budget, major renovation. And depending on what else is getting done to the bathroom at the time, it can be difficult (or expensive) to make all parts of the project blend seamlessly. Plopping in pre made shower floors, like Ensemble Shower Floor from Sterling for example, is relatively fast, easy, and inexpensive.
Some, like Americh Shower Floors, can be customized and made to order, to fit the custom shower layout.
HomeThangs.com is not only a home improvement superstore, it also provides expert design tips and a comprehensive shopping guide, taking the ideas from professional interior designers, and offering tips to the consumers on how to pick the products to best suit their needs.