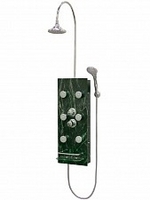 San Diego, CA (PRWEB) December 24, 2008 -
Unlimited Showers is happy to announce the release of the newest addition to their luxurious bathroom shower and shower accessories family, the Shower Column with Emerald Green Granite Body for practical use and beauty in the bathroom. Many people are choosing to upgrade their shower stalls and shower heads instead of paying the high price and dealing with the inconvenience of a full bathroom remodel. This stunning green granite shower column with chrome accents is a stylish and practical response to the demand for top of the line accessories to upgrade home bathrooms.
This luxurious shower column's clean and sleek lines will transform your shower into your very own private home spa with its luxurious offerings. This fantastic shower column comes with six adjustable body sprays and a large six inch self-cleaning chrome shower head. The unique and stunning jetted shower panel is constructed out of a beautiful emerald green granite stone that is sure to upgrade any bathroom. With a four position water control diverter, this irresistible shower column is easy to install. It also comes with a very functional 4 inch hand shower and accessory shelf, that will keep your shower enclosure area organized and help you create a stress-free showering experience everyday.
Just because this shower column is luxurious does not mean that it's a hassle to put up or that it's not a do-it-yourself job. The column comes with quick mounting wall brackets and an easy cold/hot water connection to make installation a breeze. If you are looking for a shower column with special features to love, you have found it with this granite beauty. This fabulous shower kit has massaging body jets, individual water controls, a hand held shower and a large overhang shower head. If you want to really outdo yourself, you can purchase the matching design elements, including accessory compartments, shelves and mirrors. This emerald green granite shower column is also available for the free shipping special, because Unlimited Showers is extending the very popular free shipping on purchase in the continental U.S., and no sales tax outside of California special through the end of January.
About Unlimited Showers:
Unlimited Showers is the online shopping source for everything showers. Whether you want to replace the entire shower, or just parts of it, you can find anything you need. They offer a fantastic selection of discount steam showers, jetted showers, shower enclosures, shower columns, shower doors, and shower trays. With different designs for every unique bathroom such as sliding door showers, fiberglass showers, frameless glass showers, acrylic showers or glass showers, Unlimited Showers strives to give customers the wide selection they need to upgrade their homes. Unlimited Showers offers quality showers and accessories at low prices and a great customer service experience.
###