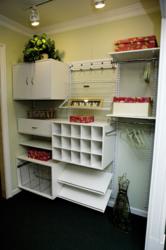 "One of the things that makes us stand out from the big box stores, and even other design centers, is that we don't have products on a shelf in the box, we actually have samples of the products shown "in-use", said Mike Judy, President
Cincinnati, OH (PRWEB) March 05, 2013
Hyde Park Lumber and Design Company, located in the Greater Cincinnati area, recently completed their showroom renovation. The showroom is filled with mini-showrooms and actual products "in-use," making this 80,000 square foot, a one-of-a-kind lumber company and design center.
"One of the things that makes us stand out from the big box stores, and even other design centers, is that we don't have products on a shelf in the box, we actually have samples of the products shown "in-use"—so the buyer can see, feel, touch the products and see what they will look like in their setting," said Mills "Mike" Cooper Judy Jr. , president of Hyde Park Lumber and Design Center.
The displays at Hyde Park Lumber and Design Center are vast—80 full size doors on display, more than 200 moldings, 300 knobs, pulls and latches, all types of fencing, shingles, decking, paneling, and much more. This is a showroom where a would-be remodeler could spend hours just browsing for ideas.
Hyde Park Lumber and Design Center began with the majority of their business done by contractors. But over the years they have evolved by enticing homeowners and do-it-yourselfers, with their great selection and prices. In the last couple of years they have also seen their walk-in customers include a large amount of women who are looking for ideas for a bath or kitchen make-over. Their large screen TV sets, located throughout the showroom, features projects on display which have been completed by their contractor customers using products purchased from Hyde Park Lumber and Design Center.
Hyde Park Lumber and Design Center also prides themselves on carrying a wide variety of products at multiple price points. Just the selection of kitchen and bath cabinets offer a selection of cabinets from top-of-the-line manufacturers like Plain and Fancy to the more affordable, but equally well-constructed and long-lasting, DuraSupreme and Showplace Cabinets. In total, they offer six different lines of kitchen and bath cabinets.
The history of Hyde Park Lumber and Design Center speaks volumes about their quality, customer satisfaction, pricing and selection. The company was started in 1902 by current president Mike Judy, Jr.'s great-grandfather. Over the years the company has only made one physical move, from Hyde Park (where Rockwood Commons now sits) to their current location at 3360 Red Bank Road. But the company continues to grow and progress by doing what they have always done best: Listening to their customers and responding to their needs.
For more information about Hyde Park Lumber and Design Center visit their web site at http://www.hydeparklumber.com