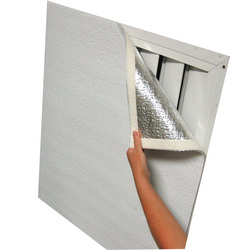 "Homeowners can save a tremendous amount of energy – and money – by covering and insulating the attic fan opening. Our Shuttercover Trim to Fit makes it easy to do just that, without ever having to enter the attic."
Springfield, Mo. (PRWEB) January 13, 2010
Most people would agree that leaving a window open in the winter would not be a good idea. However, homes with uncovered whole house fans are essentially doing just that – increasing energy usage and costs for the homeowner. Now, Shuttercover™ Trim to Fit, a trim-to fit attic fan cover, offers homeowners an easy and affordable way to cover their fans and lower energy bills.
"While whole house fans use far less energy than air conditioners when in use, the systems provide little to no insulating value. In the winter, when you're heating the home, they let hot air out and cold air in. In the summer, when the air conditioning is running, they let hot air in and cold air out," says Rick Hedgpeth at RH Manufacturing, the largest manufacturer of insulation products for whole house fans in the United States. "Homeowners can save a tremendous amount of energy – and money – by covering and insulating the opening. Our Shuttercover Trim to Fit makes it easy to do just that, without ever having to enter the attic."
Shuttercover Trim to Fit covers are made of ¼-inch thick, Low-E reflective foil insulation. This type of insulation can stop up to 97% of radiant heat transfer, adding significant energy savings. One side has a white coating to blend in with the surrounding ceiling. The square can be trimmed to fit any shutter size up to 48 inches by 48 inches.
The Shuttercover Trim to Fit attaches to the ceiling with a self-adhesive Velcro-like connector. This means no more duct tape, plastic or trips to the attic. Simply stick the cover in place on the ceiling. Remove the cover to use the fan, and replace it when finished.
In addition to preventing air infiltration, Shuttercover Trim to Fit also helps lower bills by decreasing hot and cold spots that make the furnace or air conditioner turn on unnecessarily. Most whole house fan shutters are in hallways, near thermostats. Air coming in through the un-insulated shutters creates a hot or cold spot, which the thermostat detects, causing the furnace or air conditioner to come on when it might not actually be needed. Shuttercover Trim to Fit can help prevent this.
"Shuttercover Trim to Fit is a wonderful product. I installed one…right before it turned cold," says one happy customer in Jefferson City, Missouri.
Available for less than $30 at retailers including Lowes, Westlake, Ace Hardware, WW Grainger, Sutherlands, Meeks and Herrman Lumber, Shuttercover Trim to Fit is an easy and affordable solution for homeowners. Homeowners and contractors may also purchase products online at http://www.lowes.com and http://www.grainger.com.
For additional information, including a full list of retailers, visit http://shuttercover.com.
###