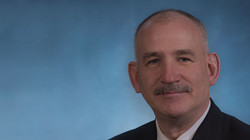 "SIA is proud to announce George Anderson as the 2019 recipient of the SIA Insightful Practitioner Award for his strategic, innovative thinking and use of technology to secure one of the most prominent urban developments in the world." – Don Erickson, CEO, SIA
SILVER SPRING, Md. (PRWEB) September 09, 2019
The Security Industry Association (SIA) has named George W. Anderson as the 2019 recipient of the SIA Insightful Practitioner Award, an honor recognizing excellence in promoting the implementation of innovative security solutions. Anderson – who retired from the New York Police Department (NYPD) in 2011 after 30 years of service – is the director of World Trade Center Security for the Port Authority of New York and New Jersey and serves as chair of the Private Sector Liaison Committee for the International Association of Chiefs of Police (IACP). SIA will present the award to Anderson during SIA Honors Night on Wednesday, Nov. 20, in New York City.
"I am honored and beyond thrilled to have been chosen as this year's recipient of the SIA Insightful Practitioner Award; the most important element of the award to me is the focus on teamwork," said Anderson. "Although I am the recipient, the award really recognizes all of the teams I have been a part of over my 37 years in both the public and private sector. The challenges we face cannot be addressed alone—partnership and collaboration are the keys to success, and I am proud to be part of a profession and an industry that places so much value on those principles."
During his career with the NYPD, Anderson rose to the position of assistant chief in the department's Patrol Services Bureau, spent five years overseeing the Police Academy and also served as executive officer of the department's Personnel Bureau. Before assuming his current role in 2015, he served as vice president of operations – Manhattan for AlliedBarton Security Services, the largest private security services company in North America.
"SIA is proud to announce George Anderson as the 2019 recipient of the SIA Insightful Practitioner Award for his strategic, innovative thinking and use of technology to secure one of the most prominent urban developments in the world," said Don Erickson, SIA CEO. "We commend George for his valuable efforts in bringing law enforcement, the security industry and other stakeholders together to forge public-private partnerships that enhance public safety through his volunteer work with the IACP; his knowledge about and commitment to public safety and security; and his effective and productive leadership."
SIA's Insightful Practitioner Award is presented annually to a security practitioner who demonstrates leadership and excellence in promoting the implementation of innovative security solutions through education, advocacy and teamwork with the security industry and other stakeholders.
SIA Honors Night – held each year concurrently with ISC East, the Northeast's largest security trade show – features a gala dinner reception, an awards ceremony recognizing industry leaders and engaging entertainment. Along with presenting the Insightful Practitioner Award, SIA will also honor industry leaders at the 2019 Honors Night with the George R. Lippert Memorial Award and the SIA Progress Award sponsored by SIA's Women in Security Forum.
About SIA
SIA (securityindustry.org) is the leading trade association for global security solution providers, with over 1,000 innovative member companies representing thousands of security leaders and experts who shape the future of the security industry. SIA protects and advances its members' interests by advocating pro-industry policies and legislation at the federal and state levels, creating open industry standards that enable integration, advancing industry professionalism through education and training, opening global market opportunities and collaborating with other like-minded organizations. As the premier sponsor of ISC Events expos and conferences, SIA ensures its members have access to top-level buyers and influencers, as well as unparalleled learning and network opportunities. SIA also enhances the position of its members in the security marketplace through SIA GovSummit, which brings together private industry with government decision makers, and Securing New Ground, the security industry's top executive conference for peer-to-peer networking.