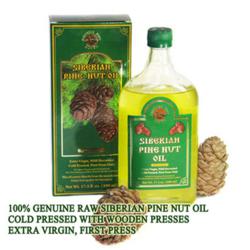 We are constantly tracking the new findings and studies around alternative medical purposes for pine nut oil.
(PRWEB) March 19, 2013
With a trend toward people seeking all natural solutions for their health problems, pine nut oil and its curative solutions are often overlooked.
In a recent article published by the Boston Globe, the author discusses what causes gastritis and some of the treatment options available. Gastritis is a common condition involving swelling of the stomach lining, which can vary from mild to chronic.
Siberian Pines, the leading international producer and supplier of pine nut oil, provides customers with a new alternative solution in the natural treatment for gastritis.
Different types of oils have been proven to serve as helpful solutions for various ailments in the inflammatory processes. Pine nut oil has proven to be distinguished from the other curative oils because of its enhanced healing components.
Many studies have been done to prove the medical effectiveness of pine nut oil. In one particular study patients with varying levels of gastritis were placed on a pine nut oil remedy, consuming one teaspoon of pine nut oil three times a day for a two month period. The conclusion was that in 93% of the patients a normalization of their bowel functions occurred. To read more about this study visit: http://www.pinenutoil.org/pine_nut_oil_natural_medicine.php
According to Victor Rod, the CEO of Siberian Pines, "We are constantly tracking the new findings and studies around alternative medical purposes for pine nut oil. It is our mission to provide the most pure and cost effective solution for our customers, no matter what the need for the oil may be. We will always stay true to our roots and provide the best all-natural product on the market."
Siberian Pine uses an old technology to produce a product that is still just as useful in modern times. The pine nuts used to create their oil are harvested in the wild and gathered only in ecologically pure regions of the taiga. The oil is create from true Siberian pine trees and is pressed using the ancient cold pressing technology, just as it has been done throughout history.
For more information please visit http://www.pinenutoil.org or email info(at)pinenutoil(dot)org.
About Siberian Pines:
The Siberian Pines Company has been a leading producer and supplier of Siberian pine nut oil since 2003. Siberian Pines produces high quality 100% cold-pressed pine nut oil and supplies it worldwide. They maintain the highest quality product and service by managing the process from the collection of Siberian pine nuts, to the production of the oil and delivering it to your front door.