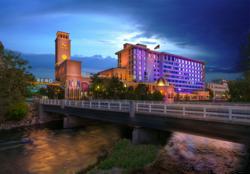 Reno, NV (PRWEB) March 14, 2013
The Siena Hotel Spa Casino announced today that they are moving toward greener solutions by converting from traditional paper slips to Virtual Drawings and Digital Comp Slips. The Siena located in Reno, NV has purchased a cutting edge software system to enhance the players experience while supporting the environment. Now, players no longer have to retrieve and keep tickets they earn to win in our drawings; the Virtual Drawing randomly selects a lucky winner. In addition, new Digital Comp Slips allow for players to easily access their comps earned at any outlet throughout the property just by showing their Siena Rewards Card.
The new Siena has made great strides toward a greener tomorrow within the casino by reducing paper consumption through technological innovation. For the new Siena going green doesn't stop there, the resort established the Truckee River Beautification Project in early 2012. The volunteer committee meets regularly to clean, plan, and establish ways to ensure the Siena's backyard remains in beautiful condition.
"Nature is our prized possession, with Siena's location right on the banks of the Truckee River, we are fortunate and we are reminded daily to do our part. Not only do our efforts to go paperless benefit our environment, it also provides added convenience to our customers. A true win win," stated David Kittrell, Director of Operations at the Siena.
The Siena encourages its players to make steps toward a greener future and join its efforts to reduce paper usage. As a result, the Siena has also created Email Express for Siena Rewards Members. Email Express allows members to receive special offers, discounts, dining specials and promotions simply by checking their email. As an incentive for signing up for Email Express the Siena will award 50 random winners a day, additionally to increase the excitement Siena members can win up to $1,000 in Free Play.
As Reno's Only 4 star Boutique Hotel Spa Casino on the River, The Siena offers world-class accommodations, a full service spa, a modern upscale casino, and features some of the best restaurants in Nevada. The Siena is celebrating their 2nd Anniversary through the end of April. One lucky player will be randomly selected by their new Virtual Drawing to roll the dice for an incredible $1,000,000.00 in Solid Gold Bullion. The Grand Finale Drawing will take place April 28th during the Siena's 2nd Anniversary celebration weekend which starts on Friday, April 26th.
Local players regard the Siena as one of their best values in the Reno market due to their truly unique promotions and generous player loyalty programs. Unlike others who are reducing player incentives, the new Siena continues to increase player reinvestment month over month.
Later this year, life-changing jackpots won't only be taking place on the Casino floor. The Siena Hotel Spa Casino is going above and beyond by partnering with Z4 Gaming of Las Vegas to enter the online gaming sector. Depending on regulatory approvals, players will have access to life changing jackpots, whether in the casino, at home, or on the go. Z4 Gaming and the Siena's partnership will give players a state of the art gaming experience on home computers, Smartphones, televisions, and tablets.
# # #
The Siena Hotel Spa Casino reopened on April 21, 2011 with completely remodeled rooms, restaurants, a world class spa and casino. The Siena sits where the historic Holiday casino once graced the banks of the Truckee River in beautiful downtown Reno adjacent to the National Automobile Museum and the Pioneer Theater. For more information on the Siena Hotel Spa Casino either phone 877-743-6233 or visit their website at http://www.SienaReno.com