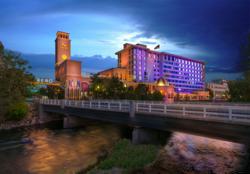 Reno, NV (PRWEB) March 23, 2013
The Siena Hotel Spa Casino in Reno, NV announced today that one winner hit eleven jackpots in one day. The Lucky Californian from Nevada City won a total of $20,000 on various Double, Double Bonus and Spin Poker Machines after hitting a wide range of combination payouts.
"My husband and I love the new Siena," said jackpot winner. "They have great machines, the food is amazing and their hospitality always makes us feel at home!"
The new Siena is quickly becoming Reno's Resort of choice for Northern Californians due to their player perks and promotion payouts. Sacramento and San Francisco residents seem to gravitate to the upscale intimate atmosphere of the new Siena. The Siena gives multiple incentives for new players, making the Siena the place to play. New players can become Siena Rewards Members with quick sign up and be awarded the equivalent level of players' status earned at other properties instantly. Normally, at other casinos, new players would have to spend months and months building up their player level status but the Siena's unique Instant Upgrade program allows players to upgrade to moment they signup.
"We want our players to all start off on the right foot," said Andrei Bustarde, Siena Casino VIP Host. "Matching their player status from other properties is just one of the ways we like to welcome new players and thank them for choosing us."
The Siena's intimate casino floor offers players easy accessibility to their favorite slots and table games. Local players and out of town visitors say that the intimate casino is a big benefit for their playing experience; their favorite games are quickly accessible and easy to find. One player commented that the Siena is "the Cheers of Reno where everybody knows your name."
The Siena's casino promotions continue to be innovative and giveaways remain generous. Their 2nd Anniversary $1,000,000.00 in Solid Gold Bullion is a promotion worth celebrating. The Grand Finale Drawing will take place April 28th during the Siena's 2nd Anniversary weekend and one lucky guest will have the chance at the life-changing $1,000,000.00 jackpot.
The Siena Hotel Spa Casino is bringing the excitement of gaming online by partnering with Z4 Gaming of Las Vegas. Later this year, depending on regulatory approvals, partnership with Z4 Gaming will give players a state of the art gaming experience on home computers, iPhones and Androids and mobile devices.
Located in downtown Reno, the Siena sits directly off the banks of the beautiful Truckee River. The riverfront resort offers an intimate casino floor, luxurious rooms, a full service spa and multiple restaurants with a river view.
Contact: Scott Short Email: SShort(at)Sienareno(dot)com
# # #
The new Siena Hotel Spa Casino, which reopened in 2011, is Reno's only riverfront 4 STAR hotel casino. This boutique resort features newly remodeled rooms and suites, 3 signature restaurants, a world class spa and upscale casino. For more information on the Siena Hotel Spa Casino either phone 877-743-6233 or visit their website at http://www. SienaReno.com.