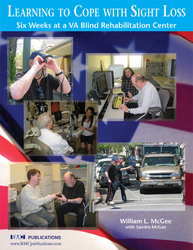 "Best-written description of the VA's Blind Rehabilitation Program that I've seen and an invaluable tool for those veterans considering participation in one of the Regional Centers." -Patrick J. Caskey, M.D., North Bay Vitreoretinal Consultants
San Francisco, CA (PRWEB) March 16, 2010
In spring 2009, William L. McGee, a World War II veteran and legally-blind since 2003 from Age-related Macular Degeneration, resided for six weeks with 30 other low vision veterans at the VA Western Blind Rehabilitation Center in Palo Alto, California and together they learned new ways to cope with their sight loss.
In a full-color, 36-page, illustrated booklet, packaged with an Audio CD recording of the text, McGee describes the components of the VA's one-on-one treatment program (Visual Skills, Orientation and Mobility, Living Skills, Manual Skills, Computer Access Training, Recreation Therapy, and Family Training) and then recounts his personal observations and day-to-day experiences. (See McGee's "8 Tips for Lifestyle Changes for the Visually-Impaired")
"Sight loss can be a very stressful event in anyone's life," writes McGee. "My objective in writing this booklet is to inform and inspire anyone living with sight loss or low vision to 'get up off the couch' and seek help from one of the many VA -- and non-VA -- blind resources listed in the book's appendix."
The Audio CD version is a complete text recording of the book and may be ordered separately. McGee, a broadcaster for 32 years, secured the volunteer services of four San Francisco Broadcast Legends to read the text: Don Mozley (CBS Radio and KCBS/74), Ed Dudkowski (formerly KPIX-TV and KRON-TV), Emmy award winning news anchor Cheryl Jennings (ABC 7/KGO TV), and Warren Weagant (formerly ABC 7/KGO Radio and TV).
Availability:
Learning to Cope with Sight Loss: Six Weeks at a VA Blind Rehabilitation Center by William L. McGee with Sandra McGee (BMC Publications, 2010) is available direct from the publisher at http://www.SightLossTheBook.com or from Amazon. Please specify the version you wish to order: Booklet & Audio CD set, $15.95, softcover booklet, 36 pp, 35 color photographs, 1 CD (75 minutes), ISBN-13: 978-0-9701678-2-8; or Audio CD only, $12.95,, ISBN-13: 978-0-9701678-3-5.
Please visit TheNewsroom/Media Materials to request a review copy, schedule an interview, or access media materials and photos online. Click on "Video Clips" to watch interview clips with the authors.
About the Authors:
William L. McGee enjoyed a 32-year career in the film, radio and TV industry. He is the author of numerous books including the acclaimed Pacific war trilogy, Amphibious Operations in the South Pacific in World War II. He and his co-author/wife, Sandra, have appeared on numerous radio and TV programs.
About BMC Publications:
BMC Publications is an imprint of Broadcast Marketing Company ("BMC") founded in 1971 by William L. McGee to provide sales support and training services to radio and TV stations. Titles in print include Amphibious Operations in the South Pacific in World War II, A Pacific War Trilogy; Bluejacket Odyssey, 1942-1946: Guadalcanal to Bikini, Naval Armed Guard in the Pacific; The Divorce Seekers: A Photo Memoir of a Nevada Dude Wrangler.
###