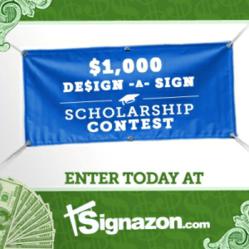 Graduation is an exciting time for new opportunities and dreams. As a young company that is driven by creativity and ideas, we love to give future leaders the chance to shine. — Rick D., CEO, Signazon.com
Dallas, TX (PRWEB) March 27, 2013
Calling all high school students. Online sign company Signazon.com is hosting its 3rd Annual $1,000 "Design-a-Sign" Scholarship Contest. Now through May 24th, 2013, eligible students can enter to win up to a $1,000 scholarship to be used to offset the cost of higher education.
As a leader in the custom sign industry, Signazon.com offers its users the ability to create and design within their own home or business. Offering a wide variety of products from car magnets to vinyl banners, Signazon.com helps its customers create a powerful brand or successful event in just a few steps.
The "Design-a-Sign" Scholarship Contest comes just in time for one of Signazon.com's peak seasons: graduation. To participate in the contest, high school students can create and submit designs that show their future dreams and goals that they hope to achieve through pursuing higher education. Once their design has been entered, students are tasked with spreading the word about their entry via social media, email, and Web banners. Entries are judged based on a voting system, with each vote boosting the entry's score by 1.
At the end of the competition on Friday, May 24th, the top three entries will win a $1,000, $200 and $100 scholarship, respectively. The Grand Prize winner's school will also receive a 10% discount for any purchases made at Signazon.com, valid for 1 year. "Graduation is an exciting time for new opportunities and dreams," says Rick D., CEO of Signazon.com. "As a young company that is driven by creativity and ideas, we love to give future leaders the chance to shine."
To learn more about the 3rd Annual $1,000 "Design-a-Sign" Scholarship Contest, or to submit your own entry, visit http://www.signazon.com/contest/grad2013/.
About Signazon.com
11969 Plano Rd., Ste 190
Dallas, TX 75243
1-800-518-1217
PR Contact: Jason.p(at)signazon(dot)com
________________________________________
Based in Dallas, TX and Boston, MA, Signazon.com is the top online business sign company. Different from a local sign shop, we have been deploying the very latest in e-commerce technologies, free template-based graphic design, and high-quality, full-color printing at cheap prices for car magnets, graduation banners, window signs, yard signs, oversized checks, canvas prints, offset printing and sign accessories since 2005.