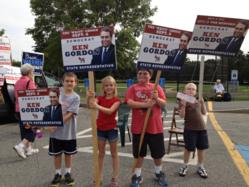 The full-color photo, together with the crisp, clean printing made people's heads turn as they passed by the signs. We maximized the time we had to draw attention to our campaign.
—Ken Gordon
Attorney-at-Law
Boston, MA (PRWEB) September 12, 2012
As America prepares to elect (or re-elect) its President, the nation also is involved in a variety of local and state elections. For Signazon.com, this is a busy time of year, as the e-commerce custom signs company works to assist its political customers with a variety of campaign advertising. One such client, Ken Gordon, a Boston area lawyer, successfully used political signs to secure a last-minute party nomination.
Due to a set of unusual circumstances, the seat of State Representative for Massachusetts' 21st Middlesex district opened up with very little time before the primary. The Middlesex District covers 2 ½ towns (Bedford, Burlington, and part of Wilmington). All interested candidates were forced to run write-in campaigns, as the ballots for the election had been printed before the sitting representative, Charles A. Murphy, chose to not seek reelection.
Enter Gordon, an attorney from Bedford, MA specializing in workplace discrimination, who decided to seek the Democratic nomination. With only three weeks until the date of the primary, Gordon turned to Signazon to provide signs that would increase the exposure of his campaign. He was impressed by the user-friendliness of Signazon.com's online design tool as well as the fast turnaround. "We had the signs on lawns in plenty of time to provide the visibility so that voters knew we were running," says Gordon, who was able to pick up his political yard signs at Signazon.com's Boston production facility.
In the primary election on September 6th, Gordon secured the nomination, earning over 40% of the Democratic vote. He attributes a portion of his success to the visibility and awareness provided by the political signs from Signazon.com. "The full-color photo, together with the crisp, clean printing made people's heads turn as they passed by the signs. We maximized the time we had to draw attention to our campaign," Gordon explains.
In contrast to many online sign companies, Signazon.com offers full-color printing and free customization. Political customers are encouraged to add a photo to their designs to stand out from a crowd of generic-looking political signage that uses just one or two colors as well as text. "We've found that a photo drastically increases recognition and responsiveness when viewing a sign," says Rick D., CEO of Signazon.com, "For political candidates, having a face to go with their name adds a personal touch to a campaign and helps voters remember them come Election Day."
Gordon now proceeds to the State House of Representatives election, which will take place on November 6th. For more information about the Ken Gordon campaign, visit http://kenforstaterep.com/.
About Signazon.com
11969 Plano Rd, Ste 190
Dallas, TX 75243
1-800-518-1217
PR Contact: Jason(dot)p(at)signazon(dot)com
________________________________________
Based in Dallas, TX and Boston, MA, Signazon.com is the top online business sign company. Different from a local sign shop, we have been deploying the very latest in e-commerce technologies, free template-based graphic design, and high-quality, full-color printing at cheap prices for car signs, custom vinyl banners, vinyl decals, window signs, yard signs, oversized checks, canvas prints, offset printing and sign accessories since 2005.
Note: Nothing in this release should be interpreted as a sponsorship of the Ken Gordon campaign. Signazon.com is a non-partisan corporation that makes no official endorsement of any political organization.