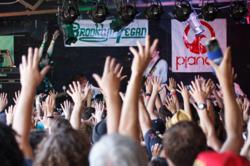 Signazon.com's work and staff are both top-notch. We would recommend them to anyone in need of a quality, professional printing job! —Katie Alexander, Partnerships Director & Event Coordinator, Brooklyn Vegan
Austin, TX (PRWEB) March 20, 2013
Over the past 2 weeks, thousands of music, film and entertainment lovers gathered in Austin to celebrate the annual South by Southwest (SXSW) Conferences & Festivals. As part of its Corporate Sponsorship Program, Dallas-based custom signs company Signazon.com contributed its products to two different groups involved with SXSW.
To help SXSW fans and attendees travel throughout the festivals, online shopping company Shopcade and Signazon.com partnered with Austin's own RideScout, which is a free app that lists transportation options throughout the city and helps potential passengers find their way to a specific destination. A group of 5 RideScout VIP vans filled with Shopcade freebies and covered in custom car decals from Signazon.com transported app users attending SXSW around town—all for free.
In addition, Signazon.com also worked with NYC-based music blog Brooklyn Vegan as well as its heavy metal partner site Invisible Oranges. The two blogger sites hosted four free SXSW-official day parties, starting Wednesday, March 13th and ending Saturday, March 16th at the Main & The Jr on 6th Street. Over 10,000 people attended these day parties, which showcased more than 50 emerging bands on both an indoor and outdoor stage. Signazon.com sponsored custom vinyl banners and postcards featuring both the Brooklyn Vegan and Invisible Oranges logos that were hung and distributed around the day parties.
Katie Alexander, Partnerships Director & Event Coordinator for Brooklyn Vegan, had this to say about working with Signazon.com, "Thanks so much to Signazon for creating our banners and postcards for this year's BrooklynVegan SXSW shows! Their work and staff are both top-notch. We would recommend them to anyone in need of a quality, professional printing job for SXSW or any other special event needs!"
For more information about Shopcade, visit http://www.shopcade.com. RideScout can be downloaded from the App Store. To learn more about Brooklyn Vegan, go to http://www.brooklynvegan.com.
About Signazon.com
11969 Plano Rd., Ste 190
Dallas, TX 75243
1-800-518-1217
PR Contact: Jason.p(at)signazon(dot)com
________________________________________
Based in Dallas, TX and Boston, MA, Signazon.com is the top online business sign company. Different from a local sign shop, we have been deploying the very latest in e-commerce technologies, free template-based graphic design, and high-quality, full-color printing at cheap prices for car magnets, vinyl banners, window signs, yard signs, oversized checks, canvas prints, offset printing and sign accessories since 2005.