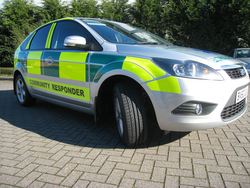 (PRWeb UK) November 9, 2010
To meet with the emergency services regulations, the Signs Express team was called in to apply vehicle graphics, including reflective vinyl, to all sides of the Ford Focus to ensure clear visibility both night and day on the roads in and around the Rugby area.
Launched on 27th October 2010, the new Rugby Community Responder vehicle will be used as an emergency response car to ensure swift arrival at emergency calls so that patients can receive immediate treatment until a conventional ambulance arrives.
As a volunteer group in partnership with West Midlands Ambulance Service, the team has been working hard to raise money for the vehicle and equipment which will serve the local community.
Natalie Craig from Rugby First Responders commented: "The Signs Express team was very accommodating and we're really grateful and over the moon with both the level of service and the end result, especially as we were so short on time. We'd originally been in contact with two separate sign companies but for one reason or another they'd both let us down at the last minute.
"Having taken a lot of time to gather the required funds through events and donations this meant that we still had to work to a relatively tight budget, Signs Express however, was very helpful and worked well within our financial constraints to help make the response vehicle ready in time for launch," Natalie added.
The Community Responder vehicle has been in use for 65 hours since it launched and has so far helped on scene at five separate emergency calls.
Signs Express (Warwick) provides a complete design, manufacture and installation service for all forms of signage including interior/exterior signs, vehicle graphics, exhibition and display products, window graphics and health and safety signage for businesses in Warwick and the surrounding area such as Royal Leamington Spa, Rugby and Stratford-Upon-Avon. For more information please log onto http://www.signsexpress.co.uk
Notes for editors:
1) For further press information, please contact Sarah Critoph at Signs Express. Tel: 01603 625925 or e-mail: sarah(dot)ccritoph(at)signsexpress(dot)co(dot)uk.
2) Signs Express is a member of the British Sign and Graphic Association, the British Franchise Association and The International Sign Association.
###